The physiography influence on small-scale fishery strategies and attributes in southern Brazil
Keywords:
fish, trawling, gillnets, artisanal fisheries, fishing gears
Abstract
It was investigated the hypothesis that small scale fisheries attributes, including types of boats, gears and fish caught, depend on the degree of difficulty that fishermen find for accessing marinas and save their boats. Data were obtained from 2001 to 2006 by direct observations, interviews with fishermen, and landing surveys. Seven communities were placed in two groups: "protected" like estuaries and coves, where physical elements reduce the energy of waves, and "exposed" normally open beaches without a physical barrier. Both groups were compared to each other according to the fleets and gears used in the fishing activities. Boats were classified in five categories, and each one of them was analyzed with regard to the community group and type of gears. Thirteen types of fishing gears were identified and 87 types of taxonomic categories ("fishâ€Â) were linked to them. Such occurrence of "fish†per gear and season pointed out six groups "gears, seasonsâ€Â. It was concluded that in the studied region, physiography actually acts on the type of boats used in fishing activities; however it does not act on fish gears and, consequently, exploited resources. Boat size is not the only attribute determining fisheries performed by a community, because communities presenting different physiography, in spite of their different fleets, can share the same target species.
References
ANDRIGUETTO-FILHO, J.M. 2002 Sistemas técnicos de pesca no litoral do Paraná: caracterização e tipificação. In: RAYNAUT, C.; ZANONI, M.;LANA, P.C.; FLORIANI, D.; FERREIRA, A.D.D.; ANDRIGUETTO-FILHO, J.M. (Eds).Desenvolvimento e Meio Ambiente: em Busca da Interdisciplinaridade. Pesquisas Urbanas e Rurais. Curitiba: Editora UFPR. p.213-233.

ANDRIGUETTO-FILHO, J.M.; CHAVES, P.T.;SANTOS, C.; LIBERATI, S.A. 2006 Diagnóstico
da pesca no litoral do Estado do Paraná. In: ISAAC, V.J.; MARTINS, A.S.; HAIMOVOCI, M.; ANDRIGUETTO-FILHO, J.M. (org.). A Pesca Marinha e Estuarina do Brasil no Iní­­cio do Século XXI: Recursos, Tecnologias, Aspectos Socioeconômicos e Institucionais. Projeto RECOS:Uso e Apropriação dos Recursos Costeiros. Grupo Temático: Modelo Gerencial da Pesca. Belém: Universidade Federal do Pará. p.117-140.

CHAVES, P.T.; PICHLER, H.A.; ROBERT, M.C. 2002 Biological, technical and socioeconomic aspects of the fishing activity in a Brazilian estuary.Journal of Fish Biology, Oxford, 61(A): 52-59.

CHAVES, P.T. e ROBERT, M.C. 2003 Embarcações,artes e procedimentos da pesca artesanal no litoral Sul do Estado do Paraná, Brasil. Atlí­¢ntica,Rio Grande, 25(1): 53-59.

HAIMOVICI, M. e MENDONí­"¡A, J.T. 1996 Descartes da fauna acompanhante na pesca de arrasto de tangones dirigida a linguados e camarões na plataforma continental do sul do Brasil. Atlí­¢ntica, Rio Grande, 18: 161-177.

KREBS, C.J. 1999 Ecological Methodology.Benjamin/Cummings. 620p.

MEDEIROS, R.P.; POLETTE, M.; VIZINHO, S.C.;MACEDO, C.X.; BORGES, J.C. 1997 Diagnóstico sócio-econômico e cultural nas comunidades pesqueiras artesanais do Litoral centro-norte do Estado de Santa Catarina. Notas Técnicas da FACIMAR, Itajaí­­, 1: 33-42.

NATIVIDADE, C.D. 2006 Estrutura populacional e distribuição do camarão sete-barbas Xiphopenaeus kroyeri (Heller, 1862) (Decapoda: Penaeidae) no litoral do Paraná, Brasil. Curitiba, 76p.(Dissertação de Mestrado, Programa de Ecologia e Conservação, Universidade Federal do Paraná).

PEREZ, J.A.A.; WAHRLICH, R.; PEZZUTO, P.R.; LOPES, A. 2002 Estrutura e diní­¢mica da
pescaria do peixe-sapo Lophius gastrophysus no sudeste e sul do Brasil. Boletim do Instituto de Pesca, São Paulo, 28(2): 205-231.

PINA, J.V. e CHAVES, P.T. 2005 A pesca de tainha e parati na Baí­­a de Guaratuba, Paraná, Brasil. Acta Biológica Paranaense, Curitiba, 34(1-4): 103-113.


REIS, E.G. 1993 Classificação das atividades pesqueiras na costa do Rio Grande do Sul e qualidade das estatí­­sticas de desembarque.Atlí­¢ntica, Rio Grande, 15: 107-114.

ROBERT, M.C. 2004 Análise da pesca artesanal de fundeio realizada pelas comunidades de Brejatuba, litoral sul do Paraná, e de Barra do Saí­­, litoral norte
de Santa Catarina, Brasil. Curitiba, 125p.(Dissertação de Mestrado, Programa de
Zoologia. Universidade Federal do Paraná).

ROBERT, M.C. e CHAVES, P.T. 2006 Diní­¢mica da atividade pesqueira artesanal em duas comunidades da região litorí­¢nea limí­­trofe Santa Catarina-Paraná, Brasil. Boletim do Instituto de Pesca, São Paulo, 32(1): 15-23.

ULRICH, C. e ANDERSEN, B.S. 2004 Dynamics of fisheries, and the flexibility of vessel activity in Denmark between 1989 and 2001. ICES Journal of Marine Science, Oxford, 61: 308-322.

VALENTIN, J.L. 2000 Ecologia numérica: uma introdução í­Â  análise multivariada de dados ecológicos. Rio de Janeiro, Editora Interciência.117p.

VIANNA, M. e ALMEIDA, T. 2005 Bony fish bycath in the southern Brazil pink shrimp
(Farfantepanaeus brasiliensis and F. paulensis) fishery. Brazilian Archives of Biology and Technology, Curitiba, 48(4): 611-623.

VIANNA, M. e VALENTINI, H. 2004 Observações sobre a frota pesqueira em Ubatuba, litoral norte do Estado de São Paulo, entre 1995 e 1996. Boletim do Instituto de Pesca, São Paulo,30(2): 171-176.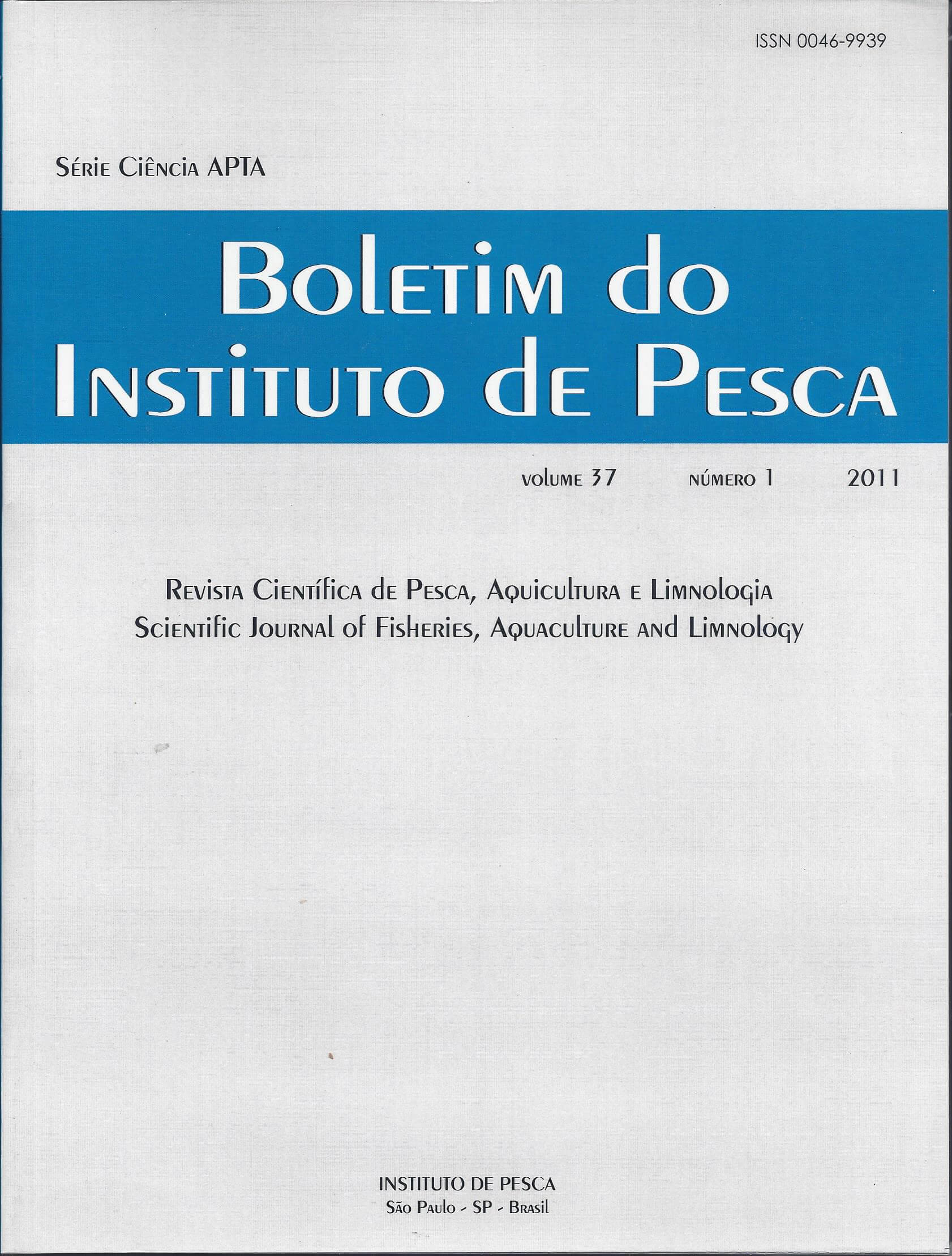 Downloads
Section
Scientific Article