Zooplankton community in fish farming
Keywords:
zooplankton, fish farming, fish and pay, rotifers, eutrophic
Abstract
The aim of this study was to evaluate the richness and the abundance and biomass of the zooplankton community of different fish farming systems in the Rio de Janeiro state. In the first stage of the study, 30 fish ponds were analyzed and ten of these were selected for the second stage. The total number of taxa found in the samples was 127: 71 rotifers, 13 cladocerans, seven copepods and 26 protozoans. About the abundance, rotifers predominated in the mostly systems and, in the second stage, the copepods showed higher abundance. Although the rotifers have highlighted the richness and abundance, biomass values were in the majority of low carbon systems (µg C L-1) compared to biomass values presented by cladocerans and copepods in the entire study. The species Brachionus calyciflorus and Moina micrura were associated with higher nitrogenous compounds concentration, and were suggested as indicators of eutrophication of these studied systems.
References
AGUIARO T. e CARAMASCHI, E.P. 1998 Trophic guilds in fish assemblages in three coastal lagoons of Rio de Janeiro State (Brazil). Verhandlungen der Internationale Vereinigung für Theoretische und Angewandte Limnologie, Stuttgart,26: 2166-2169.

AHRENS, M.A. e PETER, RH. 1991 Patterns and limitations in limnoplankton size spectra. Canadian Journal of Fisheries and Aquatic Sciences,Ottawa, 48: 1967-1978.

ATTAYDE, J.L e BOZELLI, R.L. 1998 Assessing the indicator properties of zooplankton assemblages to disturbance gradients by canonical correspondence analysis. Canadian Journal of Fisheries and Aquatic Sciences, Ottawa, 55: 1789-1797.

BASTIAN, R. 1991 EPA prefers effluents to be recycled. Water farming Journal, Estados Unidos,28: 7-10.

BRANCO, C.W.C. e SENNA, P.A.C. 1996 Relations among heterotrophic bacteria, chlorophyll-a,total phytoplankton, total zooplankton and physical and chemical features in the Paranoá reservoir, Brasí­­lia, Brazil. Hydrobiologia, Bruxelas,337: 171-181.

BRANCO, C.W.C.; ROCHA, M.I.A.; PINTO, G.F.S.;GÔMARA, G.A.; DE FILIPPO, R. 2002
Limnological features of Funil Reservoir (R.J.,Brazil) and indicator properties of rotifers and cladocerans of the zoolankton community. Lakes & Reservoirs: Research and Management, Austrália,7: 87-92.

BRANCO, C.W.C.; KOZLOWSKY-SUZUKI, B.;ESTEVES, F.A.; AGUIARO, T. 2008 Zooplankon distribution and community structure in a Brazilian coastal lagoon. Vie et Milieu, França,58(1): 1-9.

BOTTRELL, H.H.; DUNCAN, A.; GLIWICZ, Z.M.;GRYIEK, E.; HERZIG, A.; HILLBRICHTILKOWSKA, A.; KURASAWA, H.; LARSSON, P.; WEGLENSKA T. 1976 A Review of Some Problems in zooplankton production studies.Norwegian Journal of Zoology, Austrália, 24:419-456.

BUCKA, H. 1968 Plankton communities in the Ochaby complex of experimental fishery farms,Acta Hydrobiologica, China, 8(1): 13-46.

CASTELLANI, D. e BARELLA, W. 2006 Impactos da atividade de piscicultura na Bacia do Rio Ribeira de Iguape, SP í  Brasil. Boletim do Instituto de Pesca, São Paulo, 32(2): 161-171.

CAMARGO, S.G.O. e POUEY, J.L.O.F. 2005 Aqüicultura - um mercado em expansão. Revista Brasileira de Agrociência, Pelotas, 11(4): 393-396.

DIAS, J.D. 2008 Impacto da piscicultura em tanques-rede sobre a estrutura da comunidade zooplanctônica em um reservatório subtropical, Brasil. Maringá, 40p.
(Dissertação de Mestrado. Universidade Estadual de Maringá, UEM).

DURIGAN, J.G.; SIPAí­Å¡BA-TAVARES, L.H.;OLIVEIRA, D.B.S. 1992 Estudo limnológico em
tanques de piscicultura. Parte I: Variação nictemeral de fatores fí­­sicos, quí­­micos e
biológicos. Acta Limnologica Brasileira, Brasil, 4:211-223.

ECHEVARRÍA, F.; CARRILLO, P.; JIMÉNEZ, F.;SÁNCHEZ-CASTILLO, P.; CRUZ-PIZARRO, L.;RODRÍGUEZ, J. 1990 The size abundance distribution and taxonomic composition of plankton in an oligotrophic, high mountain lake (La Caldera, Sierra Nevada, Spain). Journal of Plankton Research, Oxford, 12: 415-422.

ELER, M.N. 1996 Influência do pacu (Piaractus mesopotamicus, Holmberg, 1887) e do fluxo contí­­nuo de água nas caracterí­­sticas limnológicas de viveiros de piscicultura. São Carlos, 158p.(Dissertação de Mestrado. Escola de Engenharia de São Carlos, Universidade de São Paulo).

EYTO, E. e IRVINE, K. 2005 Variation in the biomass of functional groups comprising the open-water plankton of shallow lakes in Ireland. Biology and Environment: Proceedings of the Royal Irish Academy, Inglaterra, 105 B(1):53-58.

FARIA, A.C.E.A.; HAYASHI, C.; SOARES, C.M.;GONí­"¡ALVES, G.S. 2000 Avaliação dos grupos zooplanctônicos em tanques experimentais submetidos í­Â  adubação com diferentes substratos orgí­¢nicos. Acta Scientiarum, Maringá,22(2): 375-381.

GLIWICZ, Z.M. 2003 Between harzards of starvation and risk of predation: the ecology of offshore animals. Excellence in Ecology n.12. International Ecology Institute Publications,Alemanha. 381p.

GOMES, M., 1989 Distribuição espacial dos moluscos bivalves na região da plataforma continental de Cabo Frio, Praia de Moçambala, Estado do Rio de
Janeiro, Brasil. Rio de Janeiro, 122p. (Dissertação de Mestrado. Museu Nacional, UFRJ).

JEPPESEN, E.; MEERHOFF, M.; JACOBSEN, B.A.;HANSEN, R.S.; Sí­ËœNDERGAARD, M.; JENSEN,J.P.; LAURIDSEN, T.L.; MAZZEO, N.;BRANCO, C.W.C. 2007 Restoration of shallow lakes by nutrient control and biomanipulation the successful strategy varies with lake size and climate. Hydrobiologia, Bélgica, 581: 269-285.


LACHI, G.B. e SIPAí­Å¡BA-TAVARES, L.H. 2008 Qualidade da água e composição fitoplanctônica de um viveiro de piscicultura utilizado para fins de pesca esportiva e irrigação. Boletim do Instituto de Pesca, São Paulo, 34(1): 29-38.

LANDA, G.G. e MOURGUÉS-SCHURTER, L.R. 2000 Caracterí­­sticas fí­­sicas, quí­­micas e biológicas (zooplí­¢ncton) da água que abastece a estação de piscicultura de Universidade Federal de Lavras í  MG. Boletim do Instituto de Pesca, São Paulo, 26(2): 223-232.

LATJA, R. e SALONEN, K. 1978 Carbon analysis for the determination of individual biomass of planktonic animals. Internationalen Vereinigung für Theoretische und Angewandte Limnologie,Alemanha, 20: 2556-2560.

LAZZARO, X. 1987 A review of planktivorous fishes:their evolution, feeding behaviors, selectivities and impacts. Hydrobiologia, Bélgica, 146: 97-167.

LORENZEN, C.J. 1967 Determination of chlorophyll and phaeopigments: spectrophotometric equations. Limnology Oceanography, USA, 12:343í 346.

MACEDO, C.F. e SIPAí­Å¡BA-TAVARES, L.H. 2005 Comunidade zooplanctônica em viveiros de criação de peixes, em disposição sequencial.Boletim do Instituto de Pesca, São Paulo, 31(1): 21í 27.

MATSUMURA-TUNDISI, T. 1999 Diversidade de zooplí­¢ncton em represas do Brasil. In: HENRY,R. (Ed.) Ecologia de reservatórios: estrutura, função e aspectos sociais. Botucatu: FUNDIBIO/FAPESP.p.39-54.

MATSUMURA-TUNDISI, T.; NEUMANN-LEITÃO,S.; AGUENA, L.S.; MIYAHARA, J. 1990
Eutrofização da Represa de Barra Bonita: estrutura e organização da comunidade de
Rotifera. Revista Brasileira de Biologia, São Paulo,50(4): 923-935.

NOGUEIRA, M.G. 2001 Zooplankton composition,dominance and abundance as indicators of environmental compartmentalization in Jurumim Reservoir (Paranapanema River), São Paulo, Brazil. Hydrobiologia, Bélgica, 455: 1-18.

OLIVEIRA-NETO, A.L. 1993 Estudo da variação da comunidade zooplanctônica, com ênfase na comunidade de Rotifera, em curtos intervalos de tempo (variações diárias e nictimerais) na represa do Lobo (Broa) - Itirapina, SP. São Paulo, 74p. (Dissertação de Mestrado. Universidade de São Paulo).

PARESCHI, D.C. 2001 Caracterização da fauna de Rotifera em corpos da Serra da Mantiqueira (SP). São Carlos, 72p. (Monografia de conclusão de Curso de Graduação. Centro de Ciências Biológicas e da Saúde, Departamento de
Hidrobiologia. Universidade Federal de São Carlos).

PEJLER, B. 1983 Zooplanktic indicators of trophy and their food. Hydrobiologia, Bélgica, 101:111-114.

PIVA-BERTOLETTI, S.A.E. 2001 Zooplí­¢ncton dos lagos do Parque Estadual das Fontes do Ipiranga (SP) e relações entre espécies zooplanctônicas e estado trófico
em corpos d'água do Estado de São Paulo. São Paulo,253p. (Tese de Doutoramento. Faculdade de Saúde Pública. Universidade de São Paulo).

PONTIN, R.M. e LANGLEY, J.M. 1993 The use of rotifer communities to provide a preliminary national classification of small water bodies in England. Hydrobiologia, Bélgica, 255/256: 411-419.

PORTELLA, M.C.; CESTAROLLI, M.A.; VERANI, J.R.; ROJAS, N.E.T. 1997 Produção de
organismos planctônicos para alimentação inicial de larvas de peixes de água doce. Boletim do Instituto de Pesca, São Paulo, 24: 79-89.

RIBEIRO, L. P.; MIRANDA, M.O.T.; LIMA, L.C.;HOLANDA, E.D., 2000 Aquicultura
empresarial. Informe Agropecuário, Belo Horizonte, 21(203): 5-9.

ROCHA, O. e Gí­Å"NTZEL, A. 1999 Crustáceos Branchiópodos. In: JOLY, C.A. e. BICUDO,
C.E.M (orgs.). Biodiversidade do Estado de São Paulo: Sí­­ntese do conhecimento ao final do século XX, 4: Invertebrados de água doce. São Paulo:FAPESP. p.109-120.

RODRÍGUEZ, J. e MULLIN, M.M. 1986 Relation between biomass and body weight of plankton in a steady state oceanic ecosystem. Limnology and Oceanography, Canadá, 31: 361-370.

ROSA, P.G. 2008 Comunidade zooplanctônica de cinco reservatórios tropicais do sistema Furnas S.A. (Brasil): abundí­¢ncia e biomassa em carbono. Juiz de Fora, 113p. (Dissertação de Mestrado. Universidade Federal de Juiz de Fora).

RUTTNER-KOLISKO A. 1977 Suggestions for biomass calculations of plankton rotifers.
Archiv für Hydrobiologie., Helgoland, 8: 71-76.

SAMPAIO, E.V.; ROCHA, O.; MATSUMURA TUNDISI, T.; TUNDISI, J.G. 2002 Composition and abundance of zooplankton in the limnetic zone of seven reservoirs of the Paranapanema River, Brazil. Brazilian Journal of Biology, São Carlos, 62(3): 525-545.

SENDACZ, S.; KUBO, E.; CESTAROLLI, M.A. 1985 Limnologia de reservatórios do sudeste do Estado de São Paulo, Brasil. VII. Zooplí­¢ncton. Boletim do Instituto de Pesca, São Paulo, 12(1):187-207.

SENDACZ, S.; CALEFFI, S.; SANTOS-SOARES, J.2006 Zooplankton biomass of reservoirs in different trophic conditions in the State of São Paulo, Brazil. Brazilian Journal of Biology, São Carlos, 66(1B): 337-350.

SIPAí­Å¡BA-TAVARES, L.H. e BRAGA, F.M.S. 1999 Study on feeding habits of Piaractus
mesopotamicus (Pacu) larvae in fish ponds. Naga,The ICLARM Quarterly, 22(1): 24-30.

WETZEL, R.G. e LIKENS, G.E. 1990 Inorganic nutrients: nitrogen, phosporus and other
nutrients. In: WETZEL, R.G. e LIKENS, G.E. Limnological Analyses. 2nd Ed. Springer-Verlag, New York. 81-105p.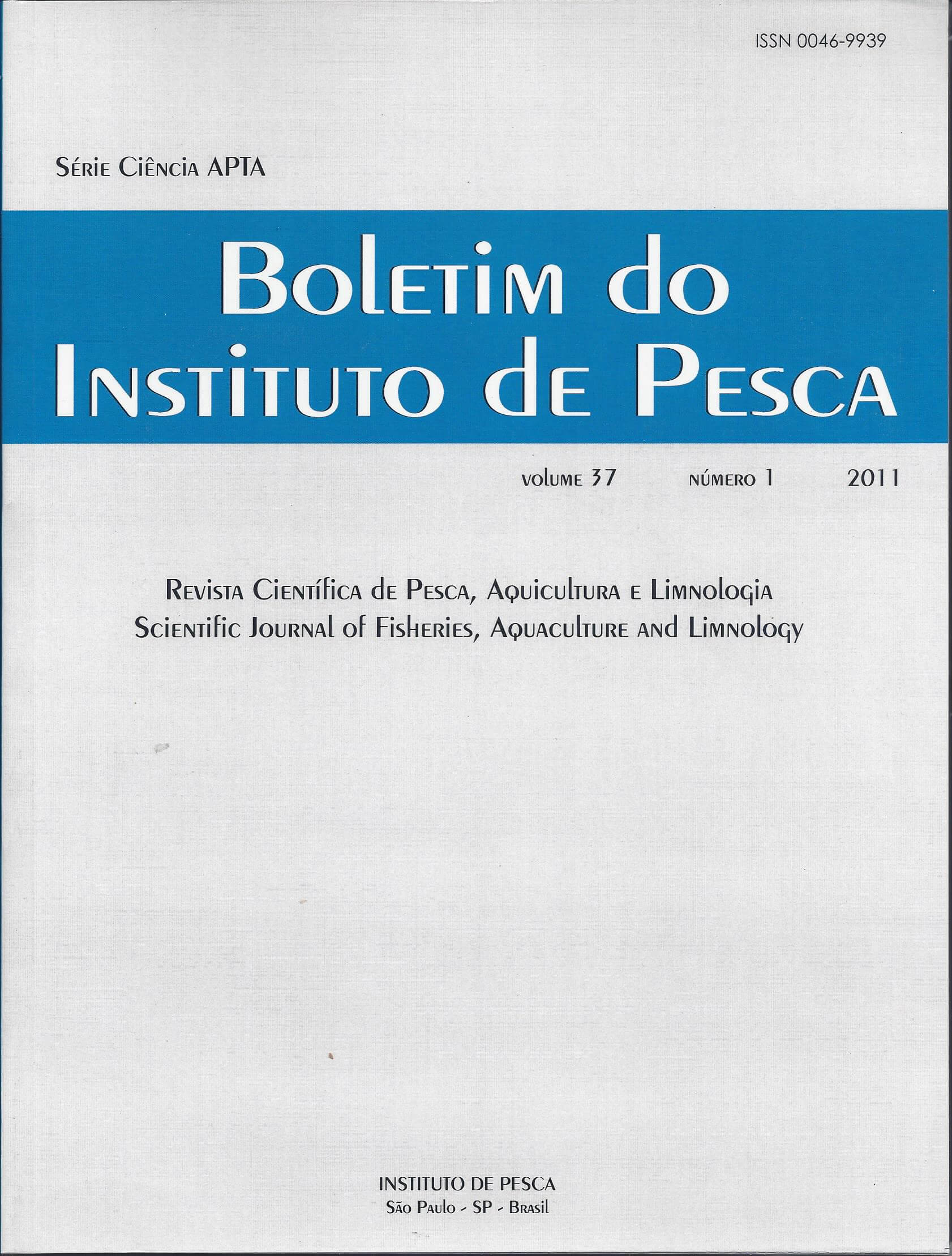 Downloads
Section
Scientific Article