Water quality in cage system fish farm in Ilha Solteira reservoir, SP
Keywords:
aquaculture park, tilapia, sedimentation rate, nutrients
Abstract
The physical and chemical water variables and the sedimentation were evaluated in a tilapia culture with 240 cages (14 and 20 m3) located on 4.5 ha of water surface in the area of the Ponte Pensa river, in the aquaculture park of the Ilha Solteira reservoir. Monthly samplings were carried out from February 2008 to January 2010 in three sites: upstream (P1), in the place (P2) and downstream (P3) of the cages fish farm. The values of pH, total ammonia, nitrate, chlorophyll "a†and total dissolved solids remain within recommended by Resolution nº 357 of the National Council of Environment to water bodies for aquaculture. The lower dissolved oxygen concentrations were observed at the site P2 in almost all months, but the values were above 4.0 mg L-1 and 60% saturation. The principal component analysis showed a trend of clustering of sampling units from the central area of the fish culture, because of the total dissolved solids concentration and sedimentation rate of total phosphorus, indicating that the fish culture directly influenced the increased levels of sediment. However, in general, the tilapia culture in cages caused a disturbance of low intensity in the aquatic system. The area of Ponte Pensa river proved efficient assimilation capacity of the disturbances caused by the production process, mitigating the impact of organic load from the feeding and fish metabolism.
References
ALVES, R.C.P. e BACCARIN, A.E. 2005 Efeito da produção de peixes em tanques-rede sobre sedimentação de material em suspensão e de nutrientes no córrego do Arribada (UHE Nova Avanhandava, Baixo Rio Tietê, SP). In:NOGUEIRA, M.G.; HENRY, R.; JORCIN, A.Ecologia de reservatórios: impactos potenciais, ações de manejo e sistemas em cascata. São Carlos: Rima.p.329-347.

AN, K. e KIM, D. 2003 Response of reservoir water quality to nutrient inputs from streams and inlake fishfarms. Water, Air, and Soil Pollution,Netherlands, 149: 27-49.

APHA (American Public Health Association). 1989 Standard methods for the examination of water and wastewater. 17th ed. Washington: American Public Health Association. 1268p.

APHA (American Public Health Association). 1995 Standard methods for the examination of water and wastewater. 19th ed. Washington: American
Public Health Association. 1134p.

ARANA, L.V. 1997 Princí­­pios quí­­micos de qualidade da água em aqüicultura: uma revisão para peixes e camarões. Florianópolis: Ed. Da UFSC. 166p.

BASSOI, L.J. e GUAZELLI, M.R. 2004 Controle ambiental da água. In: PHILIPPI, A.JR.;
ROMÉRO, M.A.; BRUNA, G.C. Curso de gestão ambiental. Barueri: Manole. p.53-99.

BEVERIDGE, M. 1996 Cage aquaculture. 2th ed.Oxford: Fishing News Books. 346p.

BLOESCH, H. 1994 A review of methods used to measure sediment resuspension. Hydrobiologia, Brussels, 284: 13-18.

BOYD, C.E.; TUCKER, C.; MCNEVIN, A.; BOSTICK,K.; CLAY, J. 2007 Indicators of resource use efficiency and environmental performance in fish and crustacean aquaculture. Reviews in Fisheries Science, London, 15: 327-360.

BUENO, G.W.; MARENGONI, N.G.; GONí­"¡ALVES,A.C.JR.; BOSCOLO, W.R.; TEIXEIRA, R.A. 2008 Estado trófico e bioacumulação do fósforo total no cultivo de peixes em tanques-rede na área aquí­­cola do reservatório de Itaipu. Acta Scientiarum Biological Sciences, Maringá, 30(3):273-243.

CARMOUZE, J.P. 1994 O metabolismo dos ecossistemas aquáticos: fundamentos teóricos, métodos de estudo e análises quí­­micas. São Paulo: Editora Edgard
Blücher/Fapesp. 254p.

CARNEIRO, G.H.A e CARVALHO, S.L. 2009 Avaliação dos teores de nitrogênio e fósforo na água em piscicultura com cultivo em tanques rede, no rio São José dos Dourados em Ilha Solteira-SP. In: CONGRESSO DE ECOLOGIA DO BRASIL, 9., São Lourenço, 13-17/set./2009. Anais... São Lourenço: Sociedade de Ecologia do
Brasil. CD-ROM.

CESP - Companhia Energética de São Paulo 2006 40 Peixes do Brasil: CESP 40 anos. Rio de Janeiro:Doiis. 208p.

CBH-SJD - Comitê da Bacia Hidrográfica São José dos Dourados 2010 Relatório de situação dos recursos hí­­dricos da bacia hidrográfica do Rio São José dos Dourados. São José do Rio Preto:CBH-SJD. 33p. Disponí­­vel em:http://www.comitesjd.sp.gov.br Acesso em:10 jan. 2011.

CONAMA - Conselho Nacional do Meio Ambiente 2005 Resolução nº 357. Disponí­­vel em:http://www.mma.gov.br/port/conama/res/res05/res35705.pdf Acesso em: 14 jan. 2009.

FAO - Food and Agriculture Organization 2010 The State of World Fisheries and Aquaculture 2010.Rome: FAO. 197p.

FERNANDES, T.F.; ELEFHTERIOU, A.; ACKEFORS,H.; ELEFHTERIOU, M.; ERVIK, A.; SANCHESMATA, A.; SCANLON, T.; WHITE, P.; COCHRANE, S.; PEARSON, T.H.; READ, P.A. 2001 The scientific principles underlying the monitoring of the environmental impacts of aquaculture. Journal of Applied Ichthyology,Berlin, 17: 181-193.

FERRAREZE, M.F.F.; NOGUEIRA, M.G.; VIANNA,N.C. 2005 Transporte de nutrientes e sedimentos no rio Paranapanema (SP/PR) e seus principais tributários nas estações seca e chuvosa. In: NOGUEIRA, M.G.; HENRY, R.; JORCIN, A.Ecologia de reservatórios: impactos potenciais, ações de manejo e sistemas em cascata. São Carlos: Rima. p.435-459.

FERRARIS, R.P.; COLOSO, R.; SUGIURA, S.;FLIMLIN, G. 2006 Phosphorus in effluents from raibow trout (Oncorhynchus mykiss) aquaculture. World Aquaculture, Baton Rouge,37(1): 16-18 and 20.

GUARINO, A.W.S.; BRANCO, C.W.C.; DINIZ, G.P.;ROCHA, R. 2005 Limnological characteristics of an old tropical reservoir (Ribeirão da Lages Reservoir, RJ, Brazil). Acta Limnologica Brasiliensia, Botucatu, 17(2): 129-141.

GUO, L. e LI, Z. 2003 Effects of nitrogen and phosphorus from fish cage-culture on the communities of a shallow lake in middle Yangtze river basin of China. Aquaculture,Amsterdam, 226: 201-212.

GUO, L.; LI, Z.; XIE, P; NI, L. 2009 Assessment effects of cage culture on nitrogen and phosphorus dynamics in relation to fallowing in a shallow lake in China. Aquaculture International, New York, 17: 229-241.

HAKANSON, L. 2005 Changes to lake ecosystem structure resulting from fish cage farm emissions. Lakes & Reservoirs: Research and Management, Richmond, 10: 71-80.

HENRY, R. 1990 Amônia ou fosfato como agente estimulador do crescimento do fitoplí­¢ncton na represa de Jurumirim (Rio Paranapanema, SP)?Revista Brasileira de Biologia, São Carlos, 50(4):883-892.

HENRY, R. 2004 A variabilidade de alguns fatores fí­­sicos e quí­­micos da água e implicações para amostragem: estudos de caso em quatro represas do Estado de São Paulo. In: BICUDO, C.E.M. e BICUDO, D.C. Amostragem em limnologia. São
Carlos: Rima. p.245-262.

IPT - Instituto de Pesquisas Tecnológicas 2007 Diagnóstico da situação atual dos recursos hí­­dricos e estabelecimentos de diretrizes técnicas para a elaboração do plano da bacia hidrográfica do São José dos Dourados-Relatório Zero. Relatório nº 40.675. São Paulo: IPT. 260p. Disponí­­vel em:http://www.sigrh.sp.gov.br/sigrh/ARQS/RELATORIO/CRH/CBHSJD/1127/volume%201.pdf Acesso em: 10 jan. 2011.

IPT - Instituto de Pesquisas Tecnológicas 2008 Plano de Bacia da Unidade de Gerenciamento de Recursos Hí­­dricos do Rio São José dos Dourados - UGRHI 18:
relatório final. São Paulo: CETAE/IPT. 274p.Disponí­­vel em:http://www.sigrh.sp.gov.br/sigrh/ARQS/RELATORIO/CRH/CBH-SJD/1239/sjd_plano%20de%20bacia.pdf> Acesso em:10 jan. 2011.

JOHANSSON, T. e NORDVARG, L. 2002 Empirical mass balance models calibrated for freshwater fish farm emissions. Aquaculture, Amsterdam,212: 191-211.

LEITE, M.A. 1998 Variação espacial e temporal da taxa de sedimentação no reservatório de Salto Grande (Americanaí SP) e sua influência sobre as caracterí­­sticas limnológicas do sistema. São Carlos. 146p. (Dissertação de Mestrado. Escola de Engenharia de São Carlos, USP). Disponí­­vel em:http://www.teses.usp.br/teses/disponiveis/18/18139/tde-16012002-144438/pt-br.php Acesso em: 4 nov. 2010.

LEITE, M.A. 2002 Análise do aporte, taxa de sedimentação e da concentração de metais na água, plí­¢ncton e sedimento do Reservatório de Salto Grande, Americanaí SP. São Carlos. 175p. (Tese de Doutorado. Escola de Engenharia de São Carlos,
USP). Disponí­­vel em: http://www.teses.usp.br/teses/disponiveis/18/18139/tde-14032003-144635/pt-br.php Acesso em: 4 nov. 2010.

MALLASEN, M. e BARROS, H.P. 2008 Piscicultura em tanques-rede na concentração de nutrientes em um corpo d'água. In: CYRINO, J.E.P.; FURUYA, W.M.; RIBEIRO, R.P.; SCORVO FILHO, J.D. Tópicos especiais em biologia aquática e aquicultura III. Jaboticabal: Sociedade Brasileira de Aquicultura e Biologia Aquática. p.79-85.

MALLASEN, M.; BARROS, H.P.; YAMASHITA, E.Y.2008 Produção de peixes em tanques-rede e a qualidade da água. Revista Tecnologia & Inovação Agropecuária, Campinas, 1(1): 47-51.

MCCUNE, B. e MEFFORD, J.J. 1997 PC-ord.Multivariate analysis of ecological data. version 3.0. Oregon: MjM Software Design, 47p.

MINELLO, M.C.S.; PAí­"¡O, A.L.; CAETANO, L.;CASTRO, R.S.D.; FERREIRA, G.; PEREIRA, A.S.; PADILHA, P.M.; CASTRO, G.R. 2010 Avaliação sazonal de alguns parí­¢metros indicadores da qualidade de água no reservatório da usina hidrelétrica de Ilha Solteira-SP, Brasil. Global Science and Technology, Rio Verde, 3(2): 98-104.

MPA - Ministério da Pesca e Aquicultura 2010 Produção pesqueira e aquí­­cola: estatí­­stica 2008 e 2009. Brasí­­lia: Ministério da Pesca e Aquicultura.30p. Disponí­­vel em: http://www.mpa.gov.br/index.php/informacoes-e-estatisticas/estatistica-da-pesca-e-aquicultura Acesso em: 9 nov.2010.

MUDROCH, A. e MACKNIGHT, S.D. 1991 CRC Handbooks of techniques for aquatic sediments sampling. New York: CRC Press Inc. 210p.

NUSH, E.A. 1980 Comparation of different methods for chlorophyll and phaeopigment determination. Archiv für Hydrobiologie Beih Ergehn Limnology, Stuttgart, 14: 14-36.

OSTRENSKY, A.; BORGHETTI, J.R.; SOTO, E.D.2008 Aqüicultura no Brasil: o desafio é crescer.Brasí­­lia: SEAP/FAO. 276p.

RAMOS, I.P.; ZANATTA, A.S.; ZICA, E.O.P.; SILVA,R.J.; CARVALHO, E.D. 2008a Impactos
ambientais de pisciculturas em tanques-rede sobre águas continentais brasileiras: revisão e opinião. In: CYRINO, J.E.P.; FURUYA, W.M.;RIBEIRO, R.P.; SCORVO FILHO, J.D. Tópicos especiais em biologia aquática e aquicultura III.Jaboticabal: Sociedade Brasileira de Aquicultura e Biologia Aquática. p.87-98.

RAMOS, I.P; VIDOTTO-MAGNONI, A.;CARVALHO, E. 2008b Influence of cage fish
farming on the diet of dominant fish species of a Brazilian reservoir (Tietê River, High Paraná River basin). Acta Limnologica Brasiliensia, Botucatu, 20(3): 245-252.

ROJAS, A. e WADSWORTH, S. 2007 A review of cage aquaculture: Latin America and the Caribbean. In: HALWART, M.; SOTO D.; ARTHUR, J.R. Cage aquaculture: regional reviews and global overview. Fisheries Technical Paper nº.498. Rome: FAO. p.70í 100.

ROSS, L.G.; FALCONER, L.L, MENDOZA, A.C.; PALACIOS, C.A.M. 2010 Spacial modelling for freshwater cage location in the Presa Adolfo Mateos Lopez (El Infiernillo), Michoacán, México. Aquaculture Research, Berlin, 42 (5): 1-11.

SENDACZ, S.; MONTEIRO, A.J.JR.; MERCANTE,C.T.; MENEZES, L.C.B.; MORAES, J.F. 2005
Sistemas de cascata: concentrações e cargas de nutrientes no sistema produtor Alto Tietê, São Paulo. In: NOGUEIRA, M.G.; HENRY, R.;JORCIN, A. Ecologia de reservatórios: impactos potenciais, ações de manejo e sistemas em cascata. São Carlos: Rima. p.417-434.

SHEPHERD, G.J. 1996 Fitopac 1: manual de usuário.Campinas: Unicamp. 35p.

SIPAí­Å¡BA-TAVARES, L.H.; LOURENí­"¡O, E.M.; BRAGA, F.M.S. 2010 Water quality in six
sequentially disposed fishponds with continuous water flow. Acta Scientiarum
Biological Science, Maringá, 32(1): 9-15.

SOARES, M.C.S.; MARINHO, M.M.; HUSZAR,V.L.M; BRANCO, C.W.C.; AZEVEDO, S.M.F.O. 2008 The effects of water retention time and watershed features on the limnology of two tropical reservoirs in Brasil. Lakes & Reservoir: Research and Management, Richmond, 13: 257-269.

STRICKLAND, J.D.H. e PARSONS, T.R. 1960 A mannual of seawater analysis. Bulletin of Fisheries Research of Board Canada, Ottawa, 125: 1-185.

TACON, A.G.J. e FOSTER, I.P. 2003 Aquafeeds and the environment: policy implications. Aquaculture, Amsterdan, 226: 181-189.

TUNDISI, J.G. 1999 Reservatórios como sistemas complexos: teoria, aplicações e perspectivas para usos múltiplos. In: HENRY, R. (Ed.) Ecologia de reservatórios: estrutura, função e aspectos sociais. Botucatu: Fundibio/Fapesp. p.19-38.

TUNDISI, J.G. e MATSUMURA-TUNDISI, T. 2008 Limnologia. São Paulo: Oficina de Textos. 631p.

VALDERRAMA, J.C. 1981 The simultaneous analysis of nitrogen and total phosphorus in natural waters. Marine Chemistry, Amsterdam,10: 109-122.

WETZEL, R.G. e LIKENS, G.E. 1991 Limnological analysis. New York: Springer Verlag. 391p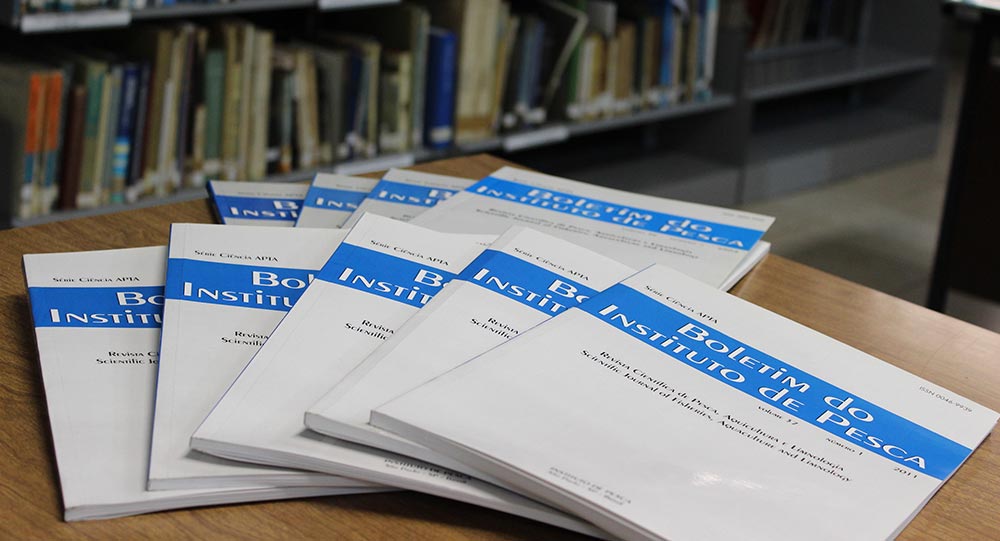 Downloads
Section
Scientific Article