Amino acid requirements of lambari-do-rabo-amarelo based on whole body and muscle composition
Keywords:
Astyanax altiparanae, nutrition, essential amino acids, muscular tissue
Abstract
Lambari is a Brazilian freshwater fish with great interest for aquaculture, but few studies were performed on its nutrition. The objective of this work was to determine amino acid composition of whole body and muscle tissue of lambari and to estimate essential amino acids (EAA) requirements based on the average requirements of other omnivorous fish species and on whole body and/or muscle of lambari. Firstly, some lambaris were sampled in a small reservoir for whole body and muscle composition determination. Also, the A/E ratio (essential amino acid/total essential amino acids) for each tissue was calculated, which based the estimation of the EAA requirements through formula: lambari dietary EAA requirement = [(content of an individual EAA in lambari whole body or muscle tissue) í­"" (average total EAA requirements among channel catfish, Nile tilapia, common carp, jundiá and pacu)] / (total EAA lambari whole body and/or muscle tissue). In general, muscular tissue showed high EAA and less non-essential amino acid contents in relation to whole body tissue (p<0,05). The EAA requirements estimated for lambari are similar to those of other fishes, which may be employed, with moderate accuracy, to formulate balanced diets until new researches, carried out through others techniques as dose-response, will be published.
References
ABIMORAD, E.G.; FAVERO, G.C.; SQUASSONI,G.H.; CARNEIRO, D.J. 2010 Dietary digestible lysine requirement and essential amino acid to lysine ratio for pacu Piaractus mesopotamicus.Aquaculture Nutrition, Oxford, 16: 370-377.

ADRIAN, I.F.; SILVA, H.B.R.; PERETTI, D. 2001 Dieta de Astyanax bimaculatus (Linnaeus, 1758)(Characiformes, Characidae), da área de influência do reservatório de Corumbá, Estado de Goiás, Brasil. Acta Scientiarum Biological Sciences, Maringá, 23: 435-440.

AGOSTINHO, C.A.; MOLINARI, S.L.;AGOSTINHO, A.A.; VERANI, J.R. 1984 Ciclo
reprodutivo e primeira maturação sexual de fêmeas do lambari, Astyanax bimaculatus (L) (Osteichthyes-Characidae) do rio Ivaí­­, Estado do Paraná. Revista Brasileira de Biologia, São Carlos,44: 31-16.

AGUIAR, D.H.; BARROS, M.M.; PADOVANI, C.R.;PEZZATO, L.E.; DAL PAI-SILVA, M. 2005
Growth characteristics of skeletal muscle tissue in Oreochromis niloticus larvae fed on a lysine supplemented diet. Journal of fish biology,London, 67: 1287-1298.

ALAMI-DURANTE, H.; WRUTNIAK-CABELLO, C.;KAUSHIK, S.J.; MÉDALE, F. 2010 Skeletal
muscle cellularity and expression of myogenic regulatory factors and myosin heavy chains in rainbow trout (Oncorhynchus mykiss): Effects of changes in dietary plant protein sources and amino acid profiles. Comparative Biochemistry and Physiology Part A, Amsterdam, 156: 561í 568.

ARAI, S. 1981 A purified test diet for coho salmon,Oncorhynchus kisutch, fry. Bulletin of the Japanese Society for the Science of Fish, Tokyo 47: 547-550.

ASSOCIATION OF OFFICIAL ANALYTICAL CHEMISTS. 2000 Official methods of analysis.Gaithersburg: AOAC International.

BICUDO, A.J.A. e CYRINO, J.E.P. 2009 Estimating amino acid requirement of Brazilian
freshwater fish from muscle amino acid profile. Journal of the World Aquaculture Society,Baton Rouge, 40: 318-823.

BUCHTOVÁ, H.; SVOBODOVÁ, Z.; KOCOUR, M.;VELÍSEK, J. 2007 Amino acid composition of edible parts of three year-old experimental scaly crossbreds of common carp (Cyprinus carpio, Linnaeus 1758). Aquaculture Research, Oxford, 38:
625-634.

DE SILVA, S.S. e ANDERSON, T.A. 1995 Fish nutrition in aquaculture. London: Chapman & Hall. 319p.

DUAN, R; ZHANG, J; DU, X; YAO, X; KONNO, K.2009 Properties of collagen from skin, scale and bone of carp (Cyprinus carpio). Food Chemistry, Amsterdam,112: 702í 706.

GARUTTI, V. 2003 Piscicultura ecológica. São Paulo:Editora UNESP. 332p.

GARUTTI, V. e BRITSKI, H.A. 2000 Descrição de uma espécie nova de Astyanax (Teleostei:Characidae) da bacia do alto rio Paraná e considerações sobre as demais espécies do gênero na bacia. Comunicações do Museu de Ciências e Tecnologia, Série Zoologia, PUCRS,Porto Alegre, 13: 65-88.

GOMES, L.C.; GOLOMBIESKI, J.I.; GOMES, A.R.C.;BALDISSEROTTO, B. 2000 Biologia do jundiá Rhamdia quelen (Teleostei, Pimelodidae). Ciência Rural, Santa Maria, 30: 170-185.

KAUSHIK, S.J. 1998 Whole body amino acid composition of European seabass (Dicentrarchus labrax), gilthead seabream (Sparus aurata) and turbot (Psetta maxima) with an estimation of their IAA requirement profiles. Aquatic Living
Resources, Paris, 11: 355-358.

LIEBERT, F. e BENKENDORFF, K. 2007 Modeling lysine requirements of Oreochromis niloticus due to principles of the diet dilution technique.Aquaculture, Amsterdam, 267: 100-110.

LIMIN, L.; FENG, X.; JING, H. 2006 Amino acids composition difference and nutritive evaluation of the muscle of five species of marine fish, Pseudosciaena crocea (large yellow croaker),Lateolabrax japonicus (common sea perch),Pagrosomus major (red seabream), Seriola dumerili (Dumeril's amberjack) and Hapalogenys nitens (black grunt) from Xiamen Bay of China.Aquaculture Nutrition, Oxford, 12: 53í 59.

MAMBRINI, M. e KAUSHIK, S.J. 1995 Indispensable amino acid requirements of fish:
correspondence between quantitative data an amino acid profiles of tissue proteins. Journal of Applied Ichthyology, Berlin, 11: 240-247.

MEURER, F.; HAYASHI, C.; BOSCOLO, W.R.;KAVATA, L.B.; LACERDA, C.H.F. 2005 Ní­­vel
de arraçoamento para alevinos de lambari-dorabo-amarelo (Astyanax bimaculatus) Revista Brasileira de Zootecnia, Viçosa, 34: 1835-1840.

MEYER, G. e FRACALOSSI, D.M. 2005 Estimation of jundiá (Rhamdia quelen) dietary amino acid requirement based on muscle amino acid composition. Scientia Agricola, Piracicaba, 62:401í 405.

MONTES-GIRAO, P. e FRACALOSSI, D.M. 2006 Dietary lysine requirement as basis to estimate the essential dietary amino acid profile for jundiá, Rhamdia quelen. Journal of the World Aquaculture Society, Baton Rouge, 37: 388-396.

NATIONAL RESEARCH COUNCIL í  NRC. 1993 Nutrient Requirements of Fish. Washington: National Academy Press. 114p.

NG, W.K. e HUNG, S.S.O. 1994 Amino acid composition of whole body, egg and selected tissues of white sturgeon (Acipenser transmontanus). Aquaculture, Amsterdam, 126:329-339.

PORTO-FOREST, F.; CASTILHO-ALMEIDA, R.B.;FORESTI, F. 2005 Biologia e criação do lambarido-rabo-amarelo (Astyanax altiparanae). In:BALDISSEROTTO, B. e GOMES, L.C. Espécies nativas para piscicultura no Brasil. Santa Maria:Editora UFSM. p.105-120.

PORTZ, L. e CYRINO, J.E.P. 2003 Comparison of the amino acid contents of roe, whole body and muscle tissue and their A/E ratios for largemouth bass Micropterus salmoides (Lacepéde, 1802). Aquaculture Research, Oxford,34: 585í 592.

ROLLIN, X.; MAMBRINI, M.; ABBAUDI, T.;LARONDELLE, Y.; KAUSHIK, S.J. 2003 The
optimum dietary indispensable amino acid pattern for growing Atlantic salmon (Salmo salar L.) fry. British Journal of Nutrition, Cambridge, 90:865-876.

SAS INSTITUTE. 2002 Statistical analysis system.Versão 9. Cary: SAS Institute.
SILVA A.J. 1985 Aspectos da alimentação do pacu adulto, Colossoma mitrei (Berg, 1895) (Pisces,Characidae), no Pantanal de Mato Grosso. Rio de Janeiro, 92p. (Dissertação de Mestrado. Universidade Federal Rural do Rio de Janeiro).

SMALL, B.C. e SOARES JR, J.H. 1998 Estimating the quantitative essential amino acid requirements of striped bass Morone saxatilis, using fillet A/E ratios. Aquaculture Nutrition, Oxford, 4: 225-232.

SPACKMAN, D.C.; STEIN, W.H.; MOORE, S. 1958 Automatic recording apparatus for use in the chromatography of amino acids. Analytical Biochemistry, New York, 30: 1190-1206.

SPIES, J.R. 1967 Determination of tryptophan in proteins. Analytical Chemistry, Washington, 39: 1412-1415.

VILELA, C. e HAYASHI, C. 2001 Desenvolvimento de juvenis de lambari Astyanax bimaculatus (Linnaeus, 1758), sob diferentes densidades de estocagem em tanques-rede. Acta Scientiarum Biological Sciences, Maringá, 23: 491-496.

WILSON, R.P. 2002 Amino acids and proteins. In:HALVER, J.E. e HARDY, R.W. Fish nutrition.New York: Academic Press. p.144-179.

WILSON, R.P. e COWEY, C.B. 1985 Amino acid composition of whole body tissue of rainbow trout and Atlantic salmon. Aquaculture, Amsterdam, 48: 373-376.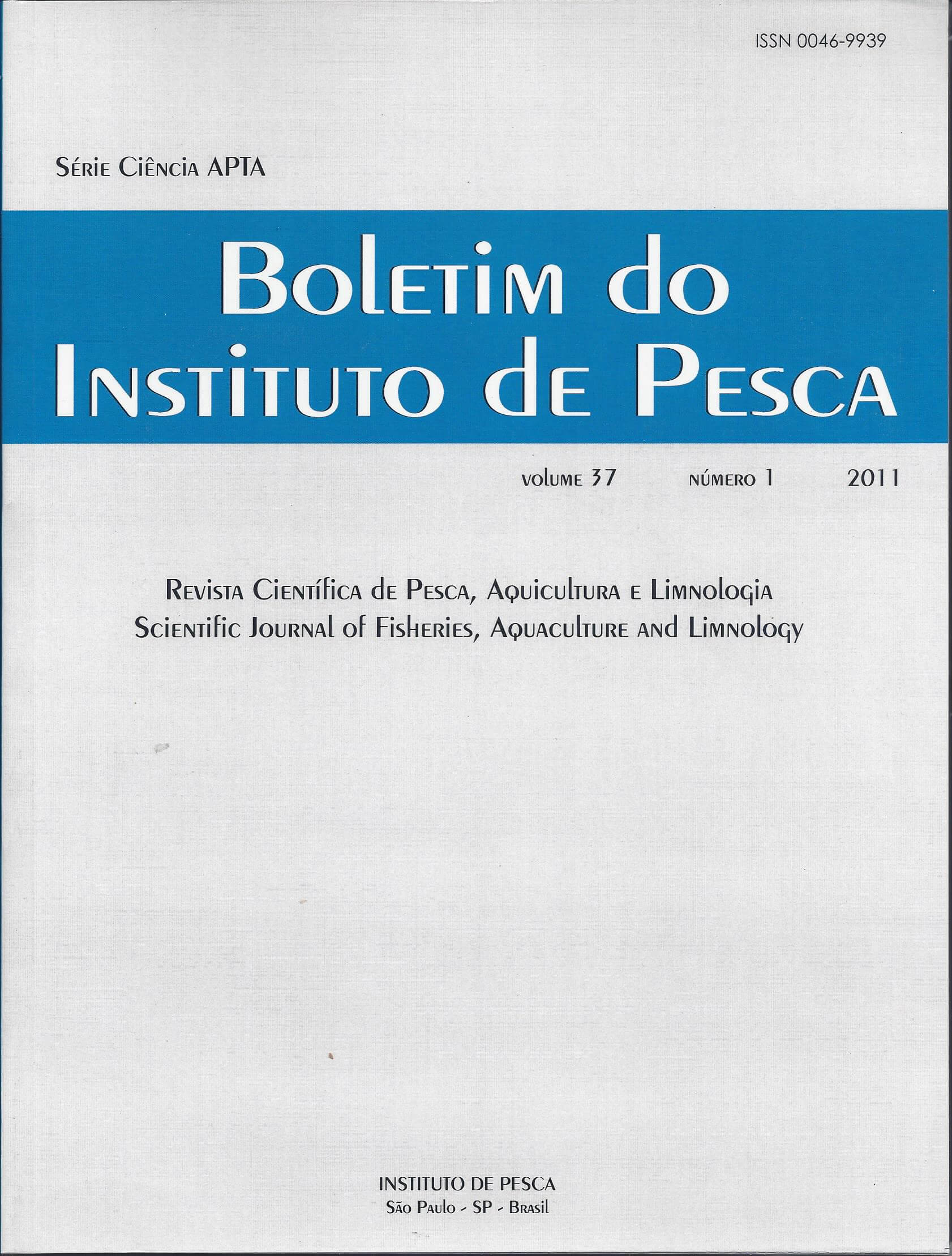 Downloads
Section
Scientific Article