Correlation between the nutritional value and price of eight species of fish marketed in the State of São Paulo
Keywords:
nutrients of fish, food, fish trade
Abstract
The flesh of fish is rich in protein, fatty acids, vitamins and minerals and is considered an important food item, despite the low consumption in Brazil, compared to world average. As the price of fish, the nutritional value varies among species of higher consumption and the relationship between these two values is presented, in most cases, inversely proportional to the species most consumed. Data on some nutrients of eight species were collected using the Brazilian Table of Food Composition and correlated with average prices practiced in the Central Supply Warehouse and General of the State of São Paulo - CEAGESP in 2009. It was observed that the variables related to the nutritional value showed no significant correlation with the prices. It is assumed that prices vary due to the sensory attributes and market and cultural factors.
References
BRUM, A.A.S.; OETTERER, M.; REGITANO D'ARCE, M.A.B. 2002 Óleo de pescado como
suplemento dietético. Revista de Ciência & Tecnologia, São Paulo, 10(19): 71-78.

BUSSAB, W.O. e MORETTIN, P.A. 1986 Estatí­­stica básica. 3a ed. Atual: São Paulo. 321p.

CARVALHO, F.C. e GIULIETTI, N. 1977 Abastecimento de sardinha para a população
paulistana de baixa renda. In: CONGRESSO PAULISTA DE AGRONOMIA, 1. São Paulo,
5-9/set/1977. Artigos Técnicos... 5 p.

CENTRAL DE ABASTECIMENTO E ARMAZÉNS GERAIS DO ESTADO DE SÃO PAULO í 
CEAGESP 2010 Departamento de economia. Disponí­­vel em: http://www.ceagesp.gov.br/cotacoes/ Acesso em: 3 mai. 2010.

FAO 2009 Estado mundial da pesca e da aquicultura 2008. Roma. 196 p.

GIUGLIANE, E.R.J. e VICTORA, C.G. 2000 Alimentação complementar. Jornal de
Pediatria, Rio de Janeiro, 76(3): 253-261.

HERRERO, M.M.H. 2001 Pescado a más consumo más control. Consuma seguridad.
In: El diário de La seguridad alimentaria,Barcelona, 13 jul. 2001. Disponí­­vel em:
http://www.consumaseguridad.com/investigacion/2001/07/13/309.php. Acesso em: 01 jun. 2010

INSTITUTO BRASILEIRO DE GEOGRAFIA E ESTATÍSTICA í  IBGE. 2003 Pesquisa do
Orçamento Familiar - 2002-2003 (POF-2002-2003). Disponí­­vel em: http//www.ibge.gov.br. Acesso em: 01 jun. 2010

MANCINI, R.A. e HUNT, M.C. 2005 Current research in meat color. Meat Science,
Champaing, 71: 100-121.

MATEO, A.; SOTO, F.; VILLAREJO, J.A.; ROCADORDA, J.; GANDARA, F.; GARCÍA, A. 2006
Quality analysis of tuna meat using an automated color inspection system. Aquacultural Engineering, Blacksburg, 35: 1-13.

NEPA-UNICAMP 2006 Tabela brasileira de composição de alimentos / NEPA-UNICAMP - Versão II -- 2. ed. Campinas. 113p.

OCHIAI, Y. e UEKI, N. 2004 Primary structure and thermostability of bigeye tuna myoglobin in relation to those of other scombridae fish.Fisheries Science, Tokio, 70: 875í 884

OETTERER, M. 2002 Industrialização do Pescado Cultivado. Guaí­­ba: Agropecuária. 200p.

OGAWA, M e MAIA, E.L. 1999 Manual de pesca.São Paulo: Varela. 430 p.

PIGOTT, G.M. e TUCKER, B.W. 1990 Seafood:effects of technology on nutrition. New York:Marcel Dekker. 362p.

SHAHIDI, F. e BOTTA, J.R. 1994 Seafoods: Chemistry, Processing Technology and Quality. Glasgow: Chapman & Hall. 342p.

SIKORSKI, Z.E. 1990 Seafood: Resources, NutrionalComposition, and Preservation. Boca Raton:CRC Press. 248p.

SMULEVICH, G.; DROGHETTI, E.; FOCARDI, C.;COLETTA, M.; CIACCIO, C.; NOCENTINI,
M. 2007 A rapid spectroscopic method to detect the fraudulent treatment of tuna fish with carbon monoxide. Food Chemistry,Reading, 101: 1071-1077.

SOCCOL, M.C.H. e OETTERER, M. 2003 Seafood as functional food. Brazilian Archives of Biology and Technology, Curitiba, 46(3): 443-454

SOKAL, R.R. e ROHLF, F.J. 1996. Biometry.Freeman & Company, New York. 776p.

SONODA, D.Y. 2006 Demanda por pescado no Brasil entre 2002 e 2003. Piracicaba, 117p. (Tese de Doutoramento. Escola Superior de Agricultura "Luiz de Queiroz" í  ESALQ.Universidade de São Paulo, USP)

VIRIYARATTANASAK, C; MATSUKAWA, S;HAMADA-SATO, N; WATANABE, M; SUZUKI, T. 2008 Quantitative measurement of metmyoglobin in tuna flesh via electron paramagnetic resonance. Food Chemistry, Reading, 111: 1050í 1056.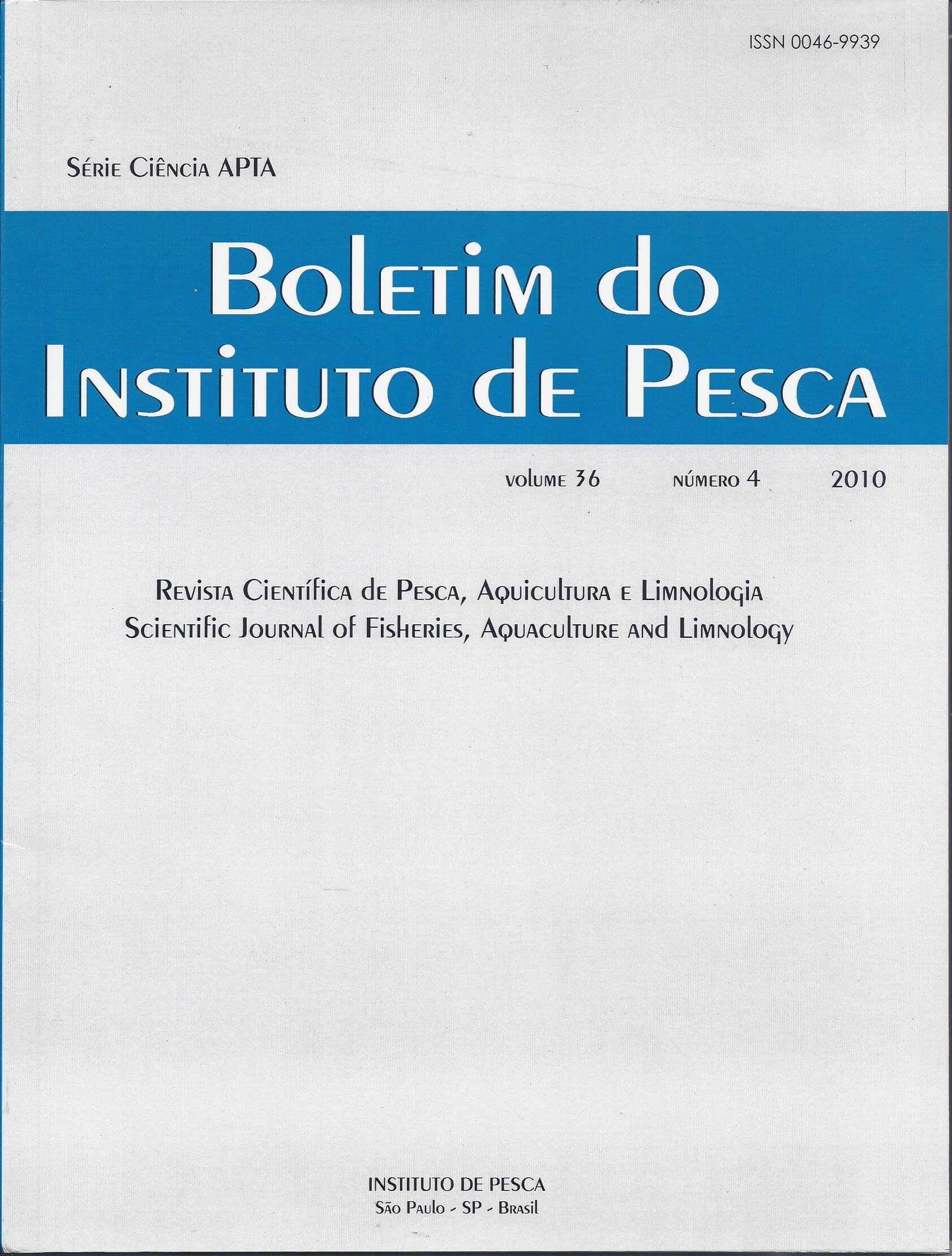 Downloads
Section
Scientific Article