Costs and economic viability of production of the lambari tetra in Monte Castelo, São Paulo State: a case study
Keywords:
Astyanax altiparanae, production costs, profitability, live-bait
Abstract
The aim of this study was to analyze the cost of production and economic viability of production of lambari in Monte Castelo/SP, with the primary market, that of live-bait for sport fishing of carnivorous fish. To calculate the operating cost structure, the model proposed by the Instituto de Economia Agrí­­cola from São Paulo/Brazil was used. In analyzing the economic viability of investment, it was determined the Internal Rate of Return (IRR) and Pay Back Period. It was noted that the inputs represented approximately 74.0% of the EOC (Effective Operating Cost). In the rentability analysis (short term), there was an operating profit of R$ 3,133.45 for a cycle, with a profitability of 18.65% for four months of production, by a cost price of R$ 13.02 kg-1. For viability of the activity (long term), the results were attractive to recovery capital from the 3rd year (Pay Back), with an IRR of 25.68% and 89.0% return on the producer in 5 years (BCR - benefit cost ratio). The study of costs and economic viability analysis reinforce the importance of rational management in the productive system and the importance of planning and managing the profitability of the activity.
References
ALAGOAS MASTER PLAN, 2005 Oportunidade de negócios. Agronegócios - Piscicultura.Disponí­­vel em http://www.investimentosalagoas.al.gov.br/op.htm Acesso em: 30 maio 2010.

BARROS, H.P. 2009 Diagnóstico da aquicultura continental na região Noroeste do Estado de São Paulo. In: CASTELLANI, D. (ed.) I WORKSHOP DE PISCICULTURA DO NOROESTE PAULISTA. Votuporanga, 13/mar./2009. 1 CDROM.

CASACA, J.M. de e TOMAZELLI Jí­Å¡NIOR, O. 2001 Planilhas para cálculos de custo de produção de peixes. Florianópolis: Epagri. 38p. (EPAGRI.Documentos, 206).

FAO í  FOOD AND AGRICULTURE ORGANIZATION OF THE UNITED NATIONS.
2003 Comité de seguridad alimentaria mundial. Efectos del cambio climático en la seguridad alimentaria y repercusiones sobre la producción sostenible de alimentos. Disponí­­vel em: http://www.fao.org/DOCREP/MEETING/006/Y9151s.HTM. Acesso em: 24 mai. 2011

FAO í  FOOD AND AGRICULTURE ORGANIZATION OF THE UNITED NATIONS
2003 Fishery Information, Data and Statistics Unit: FishStat plus: universal software for fishery statistical time series. Version 2.3, Rome.Disponí­­vel em: http://www.fao.org. Acesso em: 11 mar. 2009.

FAO - FOOD AND AGRICULTURE ORGANIZATION OF THE UNITED NATIONS. 2009 The state of World fisheries and aquaculture. Disponí­­vel em ftp://ftp.fao.org/docrep/fao/011/i0250e/i0250e.pdf. Acesso em: 25 jun. 2011.

FÁVARO, T. 2002 Lambari ganha mercado, na pesca e na mesa: de isca viva a petisco, peixe deixa de ser praga em tanques para se tornar fonte de renda. São Paulo: Suplemento Agrí­­cola do Estadão, 15 de maio de 2002.

GAMEIRO, A.H. e CARDOSO, C.E.L. 2001 Custos na piscicultura. Disponí­­vel em: http://cepea.esalq.usp.br/zip/Analise_custo.pdf. Acesso em: 28 nov. 2007.

GARUTTI, V. 1995 Revisão taxonômica dos Astyanax (Pisces, Characidae), com mancha umeral ovalada e mancha no pedúnculo caudal, estendendo-se í­Â  extremidade dos raios caudais medianos, das bacias do Paraná, São Francisco e Amazônica. São José do Rio Preto, 286p.. (Tese de Livre-Docência. Universidade Estadual Paulista Júlio de Mesquita Filho

HERMES, C.A.; OLIVEIRA, L.G.; MINOZZO, M.;VAZ, S.K.; MARTINS, R.S. 2000 Gerenciamento de propriedades piscí­­colas: apuração de custos para a produção de tilápias (Oreochromis niloticus) na região Oeste do Estado do Paraná.In: SIMPÓSIO BRASILEIRO DE AQí­Å"ICULTURA, 11., Florianópolis, 29-31/jul./2000. Anais...Florianópolis: Associação Brasileira de Aqüicultura. 1 CD-ROM.

HOLANDA JUNIOR, E.V.; RIBEIRO, L.P.; ALT,V.B.R.; HOLANDA, E.D.; IRANDA, M.O.T. 2000 Análise de viabilidade financeira de projetos de piscicultura. Informe Agropecuário, Belo Horizonte, 21: 10-15.

KREUZ, C. L; SOUZA, A; CLEMENTE, A. Custos de produção, expectativas de retorno e de riscos do agronegócio mel no planalto norte de Santa Catarina. Custos e @gronegócio on line, 4(1):Jan/Abr 2008.

MAJADAS, B. 2010 Faça de sua propriedade um negócio rentável. Revista Produz, Goií­¢nia, 48:56-61.

MARTIN, N.B.; SERRA, R; OLIVEIRA, M.D.M;ANGELO, J.A; OKAWA, H. 1997 Sistema
"CUSTAGRI": sistema integrado de custos agropecuários. São Paulo: IEA/SAA. p. 1-75.

MATSUNAGA, M.; BEMELMANS, P.F; TOLEDO,P.E.N. 1976 Metodologia de custo utilizada pelo IEA. Agricultura em São Paulo, São Paulo, 23(1):123-139.

NOGUEIRA, M.P. 2004 Gestão de custos e avaliação de resultados: agricultura e pecuária. Bebedouro: Scot Consultoria. 219p.

NORONHA, J.F. 1981 Projetos agropecuários:administração financeira, orçamentação e avaliação econômica. São Paulo: Fundação Estudos Agrários Luiz de Queiroz. 274p.

PORTO-FORESTI, F.; CASTILHO-ALMEIDA, R.B.;SENHORINI, J.A.; FORESTI, F. 2011 Biologia e criação do lambari-do-rabo-amarelo (Astyanax altiparanae). In: BALDISSEROTTO, B. e

GOMES, L.C. (org.) Espécies nativas para piscicultura no Brasil. Santa Maria: Editora
UFSM. (2.ed.), p.101-116.

PROJETO INTEGRADO DE NEGÓCIOS SUSTENTÁVEIS í  PINS (CODEVASF). 2008
Cadeia produtiva de piscicultura. Centro de Conhecimento em Agronegócios (PENSA)-Brasí­­lia, DF: CODEVASF, 2008. 38p. Disponí­­vel em http://www.gipescado.com.br/arquivos/proj_sust.pdf. Acesso em: 29 jun. 2011.

SABBAG, O.J.; ROZALES, R. dos R.; TARSITANO,M.A.A.; SILVEIRA, A.N. 2007 Análise
econômica da produção de tilápias (Oreochromis niloticus) em um modelo de propriedade associativista em Ilha Solteira/SP. Custos e @gronegócio on line, 3(2): 86-100.

SOARES, C.M.; HAYASHI, C.; GONí­"¡ALVES, G.S.;GALDIOLI, E.M.; BOSCOLO, W.R.; NAGAE, M.Y. 1999 Substituição parcial da proteí­­na da farinha de peixe pela de fontes protéicas alternativas em dietas para alevinos de lambari (Astyanax bimaculatus). In: REUNIÃO ANUAL DA SOCIEDADE BRASILEIRA DE ZOOTECNIA, 36., Porto Alegre, 26/jul./1999.Anais... Porto Alegre: Sociedade Brasileira de Zootecnia, 1999. CD-ROM.

SOUZA FILHO, J.; SCHAPPO, C.L.; TAMASSIA,S.T.J. 2003 Custo de produção do peixe de água doce. Cadernos de Indicadores Agrí­­colas,Florianópolis: Instituto CEPA/EPAGRI, 40p.

TINOCO, S.T.J. 2006 Análise sócio-econômica da piscicultura em unidades de produção agropecuária familiares da região de Tupã/SP.Jaboticabal, 94p. (Tese de Doutoramento em Aquicultura. Centro de Aquicultura da UNESP - CAUNESP). Disponí­­vel em http://www.caunesp.unesp.br/Publicacoes/Dissertacoes_Teses/Teses/Tese%20Sonia%20Terezinha%20Juliatto%20Tinoco.pdf. Acesso em: 25 jun. 2011.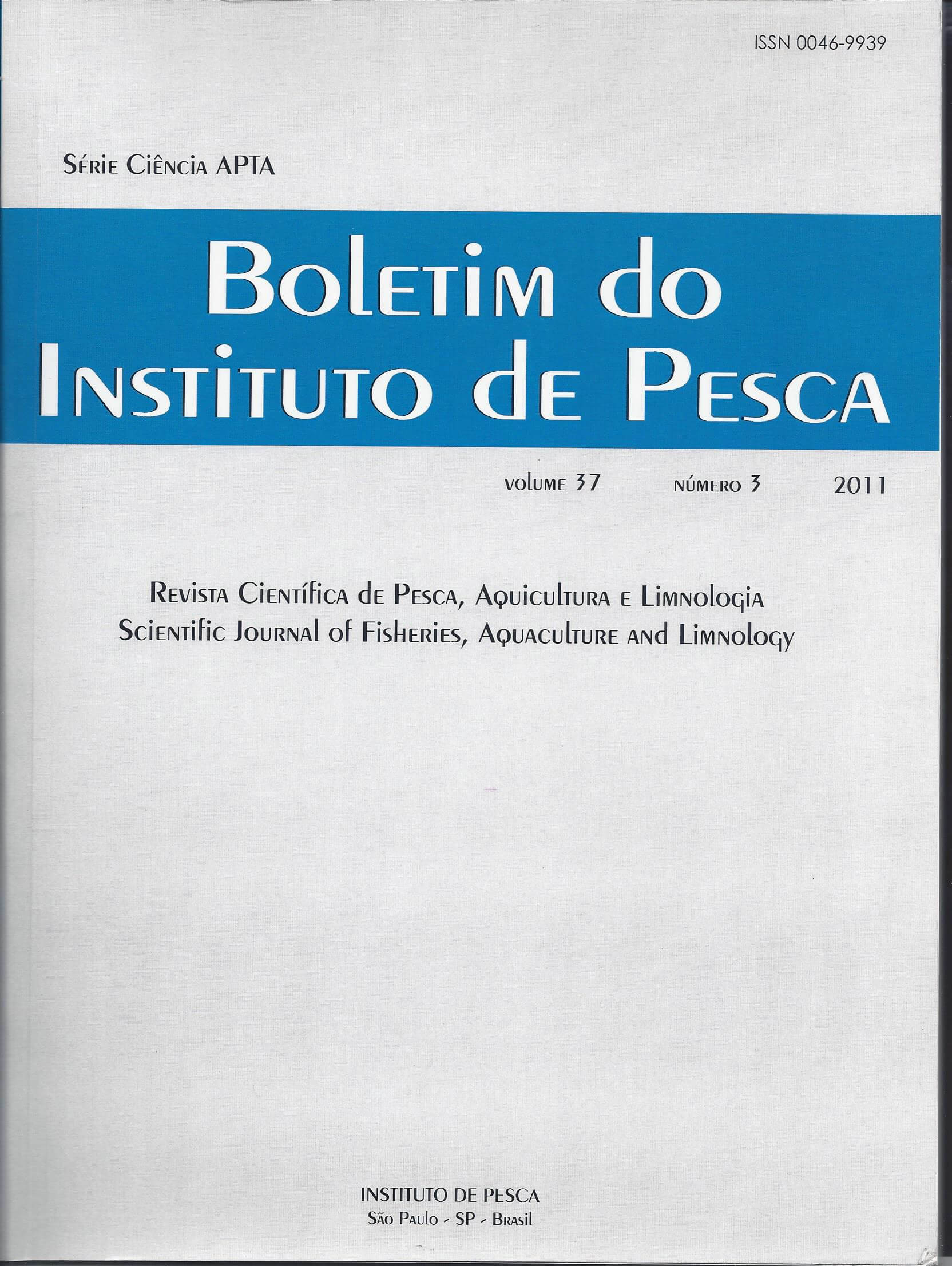 Downloads
Section
Short Communication