Hematological profile of the red snapper Lutjanus analis captured in Florianópolis, SC, Brazil, and cultured in floating net cages
Keywords:
Lutjanidae, hematology, marine fish farming
Abstract
This study evaluated the hematological profile of 24 red snapper Lutjanus analis specimens before and after the culture in floating net cages. The fish were caught with baited traps in Lagoa da Conceição, Florianópolis, Santa Catarina, Brazil, and stocked in floating net cages for 30 days. At the beginning and at the end of the culture period, hematological parameters such as hematocrit percentage, differential count of leukocytes and total count of erythrocytes, leukocytes and thrombocytes were analyzed. Additionally, the fish were weighed and measured in both sampling periods. Fish showed a mean weight of 364.8 ± 63.7 g and total length of 28.7 ± 1.8 cm before culture and a mean weight of 417.4 ± 86.5 g and total length of 30.3 ± 0.7 cm after culture. Significant increase (p<0.05) in the hematocrit percentage and total leukocytes and monocytes counts after culture were observed. This study showed that L. analis cultured for 30 days showed changes in the hematological parameters, that might be related to adaptive physiological mechanisms of this species to farming conditions.
References
ACEVES, M.A.B.; RAMOS, R.C.; TORTOLERO, D.A.G. 2010 Description of peripheral blood
cells and differential blood analysis of captive female and male leopard grouper Mycteroperca
rosacea as an approach for diagnosing diseases. Fish Physiology and Biochemistry, 36: 1263-1269.

BENETTI, D.D.; MATERA, J.A.; STEVENS, O.M.;ALARCÓN, J.F.; FEELEY, M.W.; ROTMAN, F.J.;
MINEMOTO, Y.; BANNER-STEVENS, G.;FANKE, J.; ZIMMERMAN, S.; ELDRIDGE, L. 2002 Growth, survival and feed conversion rates of hatchery-reared mutton snapper Lutjanus
analis cultured in floating net cages. Journal of the World Aquaculture Society, 33(3): 349-357.

BOTERO, J.Y. and OSPINA, J.F. 2003 Crecimiento y desempeí­±o general de juveniles silvestres de
condiciones de cultivo. Boletin de Investigaciones Marinas y Costeras, 32: 25-36.

CABRERA, B. T; ROSAS, C.J.; MILLÁN, Q.J. 1997 Reproducción y desarrolo larvário del pargo
dientón (Lutjanus griseus L. 1758) (Pisces:Lutjanidae) cultivado em cautiveiro.Caribbean Journal of Science, 33(3): 239-245.

CASTILLO-VARGASMACHUCA, S.; PONCHEPALAFOX, J.T.; ORTIZ, E.C.; ARREDONDOFIGUEROA, J.L. 2007 Effect of the initial stocking body weight on growth of spotted rose snapper Lutjanus guttatus (Steindachner, 1869) in marine floating cages. Revista de Biologia Marina
y Oceanografia, 42(3): 261-267.

CAVALLI, R.O. and HAMILTON, S. 2007 A piscicultura marinha no Brasil: Afinal, quais as
espécies boas para cultivar? Panorama da Aquicultura, 17(104): 50-55.

DEL RIO-ZARAGOZA, O.B.; FAJER-ÁVILA, E.J.;ALMAZÁN-RUEDA, P. 2010 Haematological
and gill responses to an experimental infection of dactylogyrid monogeneans on the spotted
rose snapper Lutjanus guttatus (Steindachner,1869). Aquaculture Research, 41: 1592-1601.

ELAHEE, K.B. and BHAGWANT, S. 2007 Hematological and gill histopathological parameters of three tropical fish species from a polluted lagoon on the west coast of Mauritius.Ecotoxicology and Environmental Safety, 68: 361-371.

FERREIRA, D. and GIL BARCELOS, L.J. 2008 Combined approach between better management practices and the mitigating stress management for fish culture. Boletim do Instituto de Pesca, 34(4): 601 - 611.

FIGUEIREDO, J.L. and MENEZES, N.A. 2000 Manual de Peixes Marinhos do Sudeste do Brasil. VI.
Teleósteos (5). Museu de Zoologia, Universidade de São Paulo, São Paulo. 116p.

FOWLER, S.L.; CAVANAGH, R.D.; CAMHI, M.;BURGESS, G.H.; CAILLET, G.M.; FORDHAM, S.V.; SIMPFENDORFER, C.A.; MUSICK, J.A. 2005 Fish Action Plans. IUCN Publications Services Unit, Gland, Suisse. 476p.

FREITAS, L.E.; NUNES, A.J.; SÁ, M.V. 2010 Desempenho zootécnico de juvenis de cioba, Lutjanus analis, com ração a base de ingredientes de origem vegetal. Panorama da Aquicultura, 20: 117.

FUJIMOTO, R.Y.; SANTANA, C.A.; CARVALHO,W.L.C.; DINIZ, D.G.; BARROS. Z.M.N.; VARELLA, J.E.A.; GUIMARíES, M.D.F. 2009 Hematologia e parasitas metazoários de camurim (Centropomus undecimalis, Bloch, 1792) na região Bragantina, Braganá, Pará. Boletim do Instituto de Pesca, 35(3): 441-450.

GHIRALDELLI, L.; MARTINS, M.L.; YAMASHITA, M.M.; JERONIMO, G.T. 2006 Hematologia de
Oreochromis niloticus (Cichlidae) e Cyprinus carpio(Cyprinidae) mantidos em diferentes condições de manejo e alimentação no Estado de Santa Catarina, Brasil. Acta Scientiarum Biological Sciences, 28(4): 319-325.

GOLDENFARB, P.B.; BOWYER, F.P.; HALL, E.; BROSIUS, E. 1971 Reproductibility in the hematology laboratory: the microhematocrit determination. American. Journal of Clinical Pathology, 56: 35-39.

HOKAMA. N.K. and MACHADO, P.E.A. 1997 Interpretação clí­­nica do hemograma nas
infecções. Jornal Brasileiro de Medicina, 72(3): 38-49.

ISHIKAWA, N.M.; RANZANI-PAIVA, M.J.T.;LOMBARDI, J.V. 2008 Total leukocyte counts methods in fish, Oreochromis niloticus. Archives of Veterinary Science, 13(1): 54-63.

MAGNADOTTIR, B. 2006 Innate immunity of fish (overview). Fish & Shellfish Immunology, 20: 137-
151.

MARTINS, M.L.; PILARSKY, F.; ONAKA, E.M.;NOMURA, D.T.; FENERICK Jr. J.; RIBEIRO, K.; MYIAZAKI, D.M.Y.; CASTRO, M.P.; MALHEIROS E.B. 2004 Hematologia e resposta inflamatória aguda em Oreochromis niloticus (Osteichthyes: Cichlidae) submetida aos estí­­mulos único e consecutivo de estresse de captura. Boletim do Instituto de Pesca, 30: 71-80.

MARTINS, M.L.; MOURIí­"˜O, J.L.; AMARAL, G.V.;VIEIRA, F.N.; JATOBA, A.M.B.; PEDROTTI,
F.S.; JERONIMO, G.T.; BUGLIONE-NETO, C.C.;PEREIRA-JR,G. 2008a Haematological changes
in Nile tilapia experimentally infected with Entererococcus sp. Brazilian Journal of Biology,
68(3): 657-661.

MARTINS, M.L.; MIYAZAKI, D.M.Y.; MORAES,F.R.; GHIRALDELLI, G.; ADAMANTE, W.B.;
MOURIí­"˜O, J.L.P. 2008b Ração suplementada com vitaminas C e E influencia a resposta
inflamatória aguda em tilápia do Nilo. Ciência Rural, 38(1): 213-218.

MONTERO, D.; IZQUIERDO, M. S.; TORT, L.; ROBAINA, L.; VERGARA, J.M. 1999 High stocking density produces crowding stress altering some physiological and biochemical parameters in gilthead seabream, Sparus aurata, juveniles. Fish Physiology and Biochemistry, 20:53í 60.

MORAES, F.R. and MARTINS, M.L. 2004 Condições predisponentes e principais enfermidades de
teleósteos em piscicultura intensiva. In:CYRINO, J.E.P.; URBINATI, E.C.; FRACALOSSI,
D.M.; CASTAGNOLLI, N. (Eds). Tópicos especiais em piscicultura de água doce tropical intensiva.
TecArt, São Paulo; p.343-383.

PAVLIDIS, M.; FUTTER. W.C.; KATHARIOS,DIVANACH, P. 2007 Blood cell profile of six
Mediterranean mariculture fish species. Journal of Applied Ichthyology, 23:70-73.

RANZANI-PAIVA, M.J.T. 1995 Caracterí­­sticas hematológicas da tainha, Mugil platanus Günther, 1880 (Osteichthyes, Mugilidae) da Região Estuarino-Lagunar de Cananéia-SP.Boletim do Instituto de Pesca, 22(1): 1-22.

RANZANI-PAIVA, M.J.T. and ISHIKAWA, C.M.1996 Haematological characteristics of freshwater-reared and wild mullet, Mugil platanus Günther (Osteichthyes, Mugilidae). Revista Brasileira de Zoologia, 13(3): 561-568.

RANZANI-PAIVA, M.J.T. and TAVARES-DIAS, M.2002 Eritrograma, relação viscero-somática,
hepatosomática e esplenossomática em tainhas Mugil platanus (Osteichthyes: Mugilidae)
parasitadas. Revista Brasileira de Zoologia, 19(3):807-818.

RANZANI-PAIVA, M.J.T. and SILVA-SOUZA, A.T.2004 Hematologia de peixes brasileiros. In:
RANZANI-PAIVA, M.J.T.; TAKEMOTO, R.M.; LIZAMA, M de LOS A.P. Sanidade de Organismos
Aquáticos. Ed. Varela. p.89-120.

RANZANI-PAIVA, M.J.T.; SANTOS, A.A.; DIAS,D.C.; SERIANI, R.; EGAMI, M.I. 2008 Hematological and phagocytic response of the fat snook, Centropomus parallelus, reared in net cages, before and after inoculation with Sacharomyces ceresivisiae. Bioikos, 22(1): 29-35.

ROSENFELD, G. 1947 Corante pancrônico para hematologia e citologia clinica. Nova combinação dos componentes do MayGrunwald e do Giemsa num só corante de emprego rápido. Memórias Instituto Butantan, 20:329-334.

SANCHES, E.G. 2011 Criação do vermelho-cioba (Lutjanus analis) submetido a diferentes dietas.
Bioikos, 25(1): 33-40.

SANCHES, E.G.; AZEVEDO, V.G.; COSTA, M.R.2007 Criação da garoupa-verdadeira Epinephelus
marginatus (Lowe, 1834) (Teleostei, Serranidae) alimentada com rejeito de pesca e ração úmida
em tanques-rede. Atlí­¢ntica, 29(1): 121-126.

SANTOS, A.A.; EGAMI. M.I.; RANZANI-PAIVA,M.J.T.; JULIANO, Y. 2009 Hematological parameters and phagocytic activity in fat snook (Centropomus parallelus): Seasonal variation, sex and gonadal maturation. Aquaculture, 296:359-366.

TAVARES-DIAS, M. and MOARES, F.R. 2004 Hematologia de Peixes Teleósteos. Ed. Eletrônica e
Arte Final. Ribeirão Preto. SP. 144p.

TAVARES-DIAS, M.; AFFONSO, E.G.; OLIVEIRA,S.R.; MARCON, J.L.; EGAMI. M.I. 2008 Comparative study on hematological parameters of farmed matrinxã, Brycon amazonicus Spix and Agassiz, 1829 (Characidae:Bryconinae) with others Bryconinae species. Acta Amazonica, 38: 799-806.

THOMPSON RG. 1983 General and veterinary pathology. Philadelphia: W. B. Saunders. 412p.

WELLS, R.M.G. and BALDWIN, J. 1990 Oxygen transport potential in tropical reef fish with
special reference to blood viscosity and haematocrit. Journal of Experimental Marine
Biology and Ecology, 141: 131-143.

WILHELM FILHO, D.; EBLE, G.J.; KASSNER, G.;CAPRARIO, F.X.; DAFRÉ, A.L. OHIRA, M. 1992
Comparative hematology in marine fish.Comparative Biochemistry and Physiology, 102 A:
311-321.

ZAR, J.H. 1999 Biostatiscal analysis. Upper Saddle River: Prentice Hall. 663p.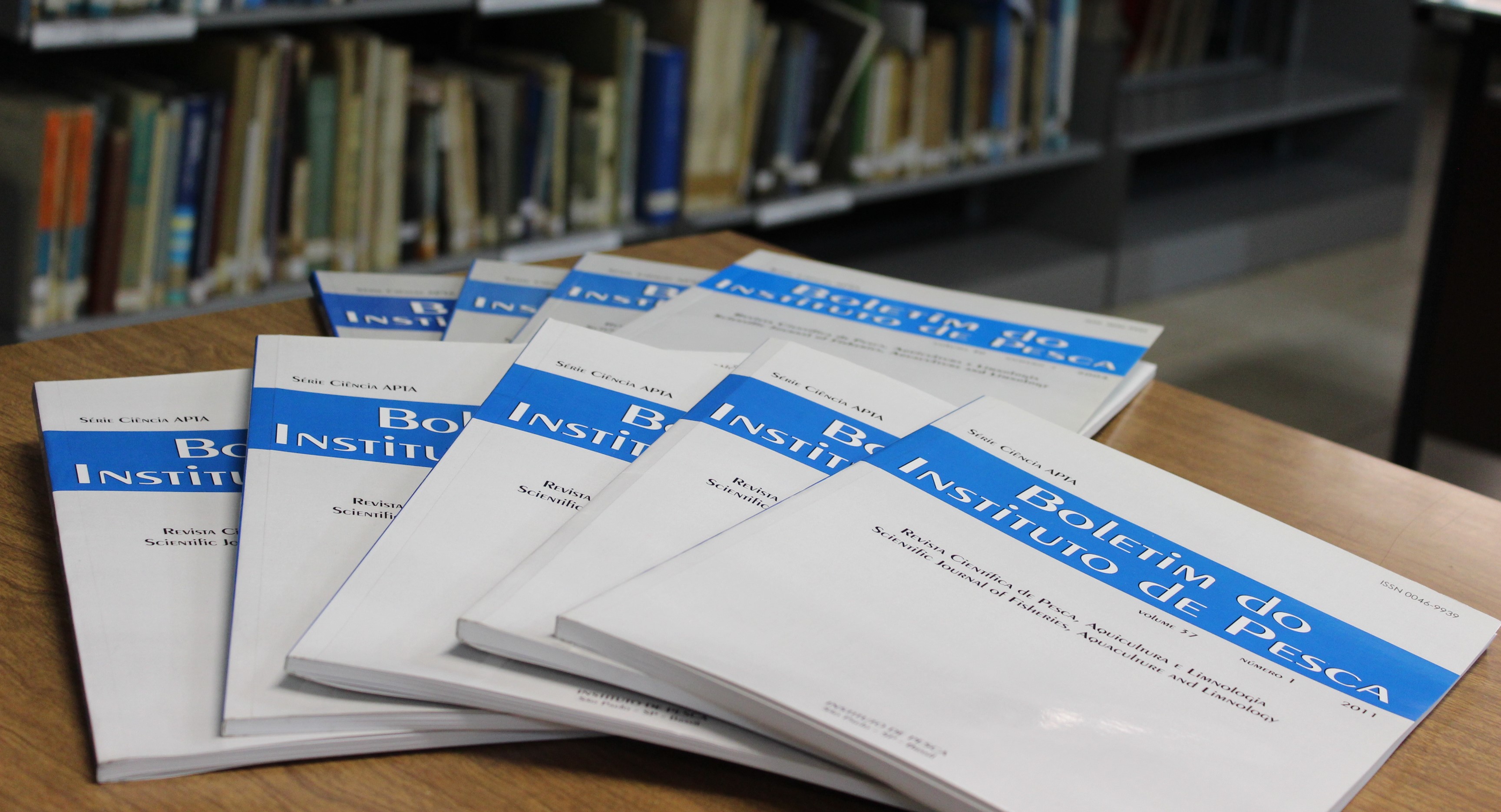 Downloads
Section
Short Communication