Lobster fishery with traps in the central coast of Pernambuco State: species composition and catch rates
Keywords:
red spiny lobster, green spiny lobster, Panulirus argus, Panulirus laevicauda, bycatch, diversity
Abstract
The objective of this work was to investigate the species composition and the catch rates of the lobster fishery with traps in Pernambuco. Besides the red (Panulirus argus) and the green (Panulirus laevicauda) spiny lobsters, six other species of crustacean, 34 fish species and two mollusk species were also caught. Catch rates of lobsters were higher when traps were deployed in shallow waters northward of Olinda coast. Catch rate of lobsters decreased from the beginning to the end of the harvest season, when catch rates of fishes surpassed that of lobsters. Catch rates of mollusks were low. The high diversity and the ecological and economic importance of the bycatch species highlight the need for monitoring the fishery with traps, as well as for studies on the potential production and vulnerability of those species caught together with lobsters.
References
ARCE, A.M.; AGUILAR-DÁVILA, W.; SOSACORDERO, E.; CADDY, J.F. 1997 Artificial shelters (casitas) as habitats for juvenile spiny lobsters Panulirus argus in the Mexican Caribbean. Marine Ecology Progress Series, 158(1):217-224.

BARLETTA, M. e CORRí­Å A, M.F.M. 1992 Guia para identificação de peixes da costa do Brasil. Editora
UFRPE. 131p.

CARPENTER, K.E. 2002 The living marine resources of the Western Central Atlantic. Volume 2: Bony fishes part 1. In: CARPENTER, K.E. FAO Species Identification Guide for Fishery Purposes and
American Society of Ichthyologists and Herpetologists Special Publication Nº 5. Rome, FAO. p.601-1374.

CPRH í  AGí­Å NCIA ESTATUAL DE MEIO AMBIENTE E RECURSOS HÍDRICOS. (sem data, on line) Diagnóstico sócio-ambiental do Litoral Sul de Pernambuco. URL: <http://www.cprh.pe.gov.br/central_servicos/centro_docume
ntacao_informacao_ambiental/central_downloa ds/39749%3B34001%3B020709%3B0%3B0.asp>
Acesso em: 10 out. 2014.

DAVIDSON, R.J.; VILLOUTA, E.; COLE, R.; BARRIER, R.G. 2002 Effects of marine reserve protection on spiny lobster (Jasus edwarsii)abundance and size at Tonga Island Marine Reserve, New Zealand. Aquatic Conservation:Marine and Freshwater Ecosystems, 12: 213-227.

DIAS-NETO, J. e DORNELLES, L.C.C. 1996 Diagnóstico da pesca marí­­tima do Brasil. Coleção
Meio Ambiente. Série Estudos Pesca, 20. Brasí­­lia:IBAMA. 165p.

EGGLESTON, D.B. e DAHLGREN, C.P. 2001 Distribution and abundance of Caribbean spiny lobsters in Key West National Wildlife Refuge: relationship to habitat features and impact of an intensive recreational fishery. Marine Freshwater Research, 52(8): 1567-1576.

FAUSTO-FILHO, J.; MATTHEWS, H.R.; LIMA, H.H.1966 Nota preliminar sobre a fauna dos bancos
de lagostas no Ceará. Arquivos de Ciências do Mar,6(2): 127-130.

FONTELES-FILHO, A.A. 1986 Influência do recrutamento e da pluviosidade sobre a abundí­¢ncia das lagosta Panulirus argus (Latreille) e Panulirus laevicauda (Latreille) (Crustacea: Palinuridae), no Nordeste do Brasil.Arquivos de Ciências do Mar,25: 13-31.

FONTELES-FILHO, A.A. 1997 Spatial distribution of the lobster species Panulirus argus and P.
laevicauda in the Northern and Northeastern Brazil in relation to the distribution of fishing
effort. Ciência e Cultura, 49(3): 172-176.

FONTELES-FILHO, A.A. 2007 Sí­­ntese sobre a lagosta-vermelha (Panulirus argus) e a lagosta
verde (Panulirus laevicauda) do Nordeste do Brasil, In: HAIMOVICI, M. (org.), A prospecção
pesqueira e abundí­¢ncia de estoques marinhos no Brasil nas décadas de 1960 a 1990: levantamento de dados e avaliação crí­­tica. Ministério do Meio Ambiente, Brasí­­lia. p.257-265.

IBAMA. 2008 Plano de gestão para o uso sustentável de lagostas no Brasil: Panulirus argus (Latreille, 1804)e Panulirus laevicauda (Latreille, 1817).Organizador: José Dias Neto. Brasí­­lia. 121p.

IVO, C.T.C.; COELHO, C.G.N.; SILVA, C.D.V. 1984 Análise bioeconômica da pesca de lagosta no
Nordeste do Brasil. Arquivos de Ciências do Mar,23: 65-73.

IVO, C.T.C.; SANTIAGO, M.E.; MONTEIRO-NETO, C. 1996 Fauna acompanhante na pesca das lagostas Panulirus argus (LATREILLE) e Panulirus laevicauda (LATREILLE), no Estado do Ceará, Brasil. Arquivos de Ciências do Mar,30(1/2): 41-47.

LEITE, T.S.; CORRí­Å A, R.S.G.; LIMA, F.D.; VASCONCELOS, J.A.; OLIVEIRA, J.E.L.;HAIMOVICI, M. 2010 A pescaria artesanal de polvo (Octopus) no Rio Grande do Norte. In: CONGRESSO BRASILEIRO DE
OCEANOGRAFIA - CBO-2010, 3., Rio Grande,17- 21/mai./2010. Anais... p.3025-3027.

LINS-OLIVEIRA, J.E.; VASCONCELOS, J.A.; REY,H. 1993 A problemática da pesca de lagostas no
nordeste do Brasil. Boletim Técnico-Cientí­­fico do CEPENE, 1(1): 187-210.

MANSO, V.A.V.; COUTINHO, P.N.; GUERRA, N.C.; SOARES, C.F.A. 2006 Pernambuco. In: MUEHE,
D. Erosão e Progradação no Litoral Brasileiro. Ministério do Meio Ambiente, Brasí­­lia. p.179-196.

MARQUES, S. e FERREIRA, B.P. 2010 Composição e caracterí­­sticas da pesca de armadilhas no litoral norte de Pernambuco í  Brasil. 16p. Disponí­­vel em: http://www.academia.edu/2087457/com
posicao_e_caracteristicas_da_pesca_de_armadilhas_no_litoral_norte_de_pernambuco_-_brasil>
Acesso em: 20 dez. 2013.

MENEZES, N.A. e FIGUEIREDO, J.L. 1980 Manual de peixes marinhos do sudeste do Brasil. IV. Teleostei (3). São Paulo, Museu de Zoologia, Universidade de São Paulo. 96p.

MPA í  MINISTÉRIO DA PESCA E AQUICULTURA 2012 Boletim Estatí­­stico da Pesca e Aquicultura.
Brasil 2010. Grandes Regiões e Unidades da Federação. Brasí­­lia. 128p. Disponí­­vel em:
<http://www.mpa.gov.br/files/Docs/Informacoes_e_Estatisticas/Boletim%20Estat%C3%ADsti
co%20MPA%202010.pdf>

PAIVA, M.P. 1965 Dados sobre a densidade relativa de lagostas na costa cearense em 1964. Arquivos de Estudos em Biologia Marinha, 5(1): 1-9.

PAIVA, M.P. 1997 Recursos pesqueiros estuarinos e marinhos do Brasil. EUFC, Fortaleza. 278p.

PAIVA, M.P. e SILVA, A.B. 1962 Estudos de biologia da pesca de lagostas no Ceará í  Dados de 1961.Arquivos de Estudos em Biologia Marinha, 2(2):21-34.

PAIVA, M.P.; MATHEWS, H.R.; IVO, C.T.C. 1973 Pescarias experimentais de lagosta com redes de
espera, no Estado do Ceará (Brasil). Arquivos de Ciências do Mar, 13(2): 121-134.

R CORE TEAM. 2014 R: A language and environment for statistical computing. RFoundation for Statistical Computing, Vienna, Austria. Disponí­­vel em: <http://www.Rproject.org>

RIOS-LARA, V.; SALAS, S.; BELLO-PINEDA, J.; IRENE-AYORA, P. 2007 Distribution patterns of
spiny lobster (Panulirus argus) at Alacranes reef,Yucatan: Spatial analysis and inference of
preferential habitat. Fisheries Research, 87: 35-45.

ROCHA, C.A.; Jí­Å¡NIOR, W.F.; DANTAS, N.P.;FARIAS, M.F.; OLIVEIRA, A.M.E. 1997 Fauna e
flora Acompanhantes da pesca da lagosta no Nordeste do Brasil. Boletim Técnico-Cientí­­fico do
CEPENE, 5(1): 11-22.

SCHMIEGELOW, J.M.M. 2004 O Planeta Azul: Uma Introdução í­Â s Ciências Marinhas. Rio de Janeiro,
Editora Interciência. 202p.

SIEGEL, S. e CASTELLAN Jr., N.J. 2006 Estatí­­stica Não-Paramétrica para Ciências do Comportamento.Porto Alegre, Artmed. 448p.

SILVA, A.C. e FONTELES-FILHO, A.A. 2011 Avaliação do Defeso Aplicado í­Â  Pesca da Lagosta no
Nordeste do Brasil. Fortaleza, Editora Expressão Gráfica. 110p.

VASCONCELOS, J.A.; VASCONCELOS, E.M.; LINSOLIVEIRA, J.E. 1994 Captura por unidade de esforço dos diferentes métodos de pesca (rede,mergulho e covo) empregados na pesca lagosteira do Rio Grande do Norte. Boletim Técnico-Cientí­­fico do CEPENE, 2(1): 133-153.

WALTERS, C.J. e MARTELL, S.J.D. 2004 Fisheries Ecology and Management. New Jersey, Princeton
University Press. 399p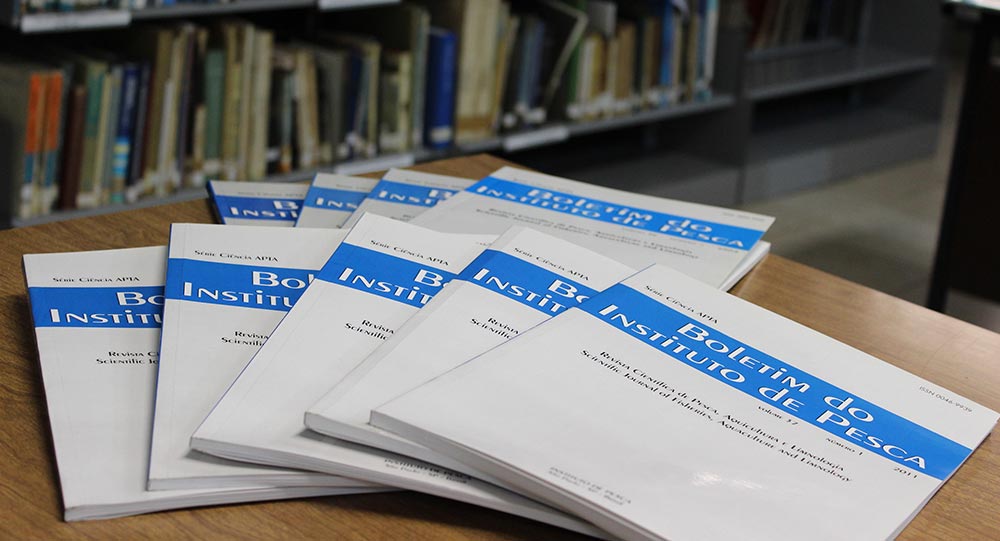 Downloads
Section
Short Communication